The Pool Boys are offering a full set of DE Filter Grids at a 10% savings. That's right, when you purchase a full set of 7 Full and 1 Partial DE Filter Grids, we'll take 10% off the price at the register.
DE Filter Grids are universal for almost all models of filters. There are a few exceptions on really old models, but these are few and far between. From Hayward ProGrid to Jandy DEV and Pentair FNS Plus, they all pretty much interchange. What makes the biggest difference is the size of the filter, measured in Square Feet (sq. ft.).
A Complete Set of Grids is 7 Full Grids and 1 Partial Grid
A full set of DE Filter Grids consist of 7 full size grids and 1 partial grid, also known as a half grid. You can replace a single grid, however if 1 grid is starting to show signs of wear, it might be a good idea to go ahead and change the full set of grids. That's why we decided to run a promotion to help save you a little money while improving your water quality.
DE Filter Grid Size and Price Chart
Size

Full Grid

Partial Grid

Full Set of Grids
Take 10% OFF!

24 sq. ft.
Call
 
 
36 sq. ft.
$24.99
$26.99

$201.92

$181.73
48 sq. ft.
$27.99
$29.99

$225.92

$203.33
60 sq. ft.
$31.99
$33.99

$257.92

$232.13
72 sq. ft.
Call
 
 

* Note: The size/model of the filter is referred to as a '48 sq ft filter', '60 sq ft filter', etc
Some Fast Facts About DE Filters
DE Filters are the most efficient type of pool filter on the market today.
DE Filters can trap particles down to 3 - 5 microns.
The D.E. Powder is what is actually doing the filtering, the Filter Grids just hold the DE in place.
DE Filters allow you to perform backwashing which will increase the time between needing to breakdown the filter completely and clean.
DE FIlter Cleanings should be performed twice a year as routine maintenance, sometimes more if the pool is having problems staying clear.
Most Common DE Filters In Use Today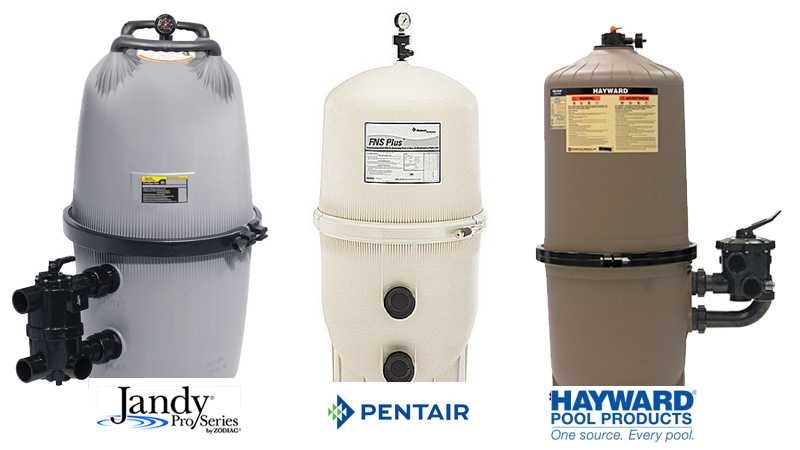 Pentair FNS Plus
FNS Plus filters are fiberglass reinforced polypropylene of advanced chemical resistant materials for superior strength and reliability. The top manifold design features the Service-Ease grid pack for convenient one-at-a-time grid servicing.
http://www.thepoolboystx.com/pool-products/pool-filters/144-pentair-fns-plus-fiberglass-de-filter
Hayward Progrid
ProGrid vertical grid D.E. filters provide superior water clarity, efficient flow and large cleaning capacity for pools and spas of all types and sizes. ProGrid combines high-tech features and a "service-ease" design for unparalleled filtration.
http://www.thepoolboystx.com/pool-products/pool-filters/101-hayward-pro-grid-vertical-grid-de-filter
Jandy DEV
Diatomaceous earth is a natural, eco-friendly water polisher. Made of tiny fossil exoskeletons, diatomaceous earth is a safe and natural water polisher. The Jandy DEV filter traps debris as small as 5 microns, returning highly filtered water to your pool.
http://www.thepoolboystx.com/pool-products/pool-filters/145-jandy-pro-series-dev-diatomaceous-earth-filter
Get the Help You Need With Your DE Filter Grids
If you need assistance putting your filter grid assembly together, be sure to check out The Pool Boys recent blog post How to Assemble a DE Filter Grid. And if you still have questions or would like to schedule an appointment to have our service technician replace your filter grids for you, give us a call at 832-473-5715 or contact us using the form below.