From giving away the first Filter Clean free, to adding the new ProTeam Supreme Borates System to our customers pools, we have always tried to go the extra mile for each and every one. So for 2019, we've decided to improve our service once again, while delivering more value, and ultimately a better swimming experience each and every week.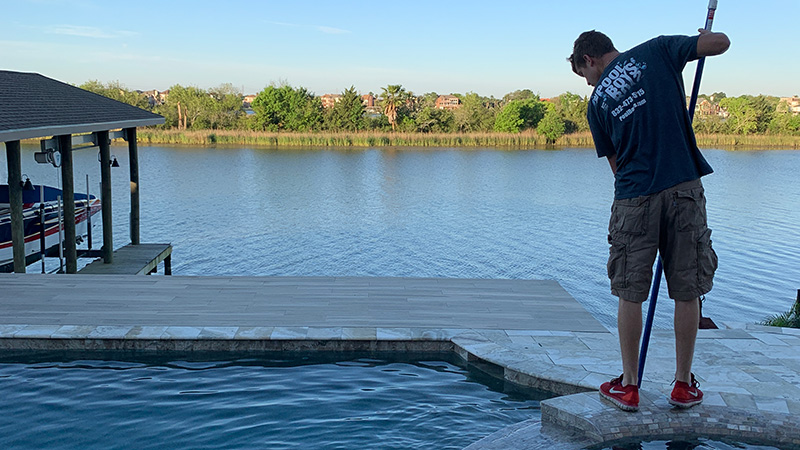 Introducing Total Care Weekly Pool Maintenance Service. We've taken all of the things we've learned from running a growing pool route in League City, Friendswood, Clear Lake and the surrounding area, and added it to the wealth of knowledge acquired over that time. After listening to customer feedback, we came up with a premium pool maintenance service to properly maintain your pool and equipment on a weekly basis with our new Total Care Weekly Pool Maintenance Service.
Total Care Startup for a New Customer Pool
The following services are are provided to each new Total Care Pool Maintenance Service customer upon startup.
Spinlab Water Test Analysis of your Pool Water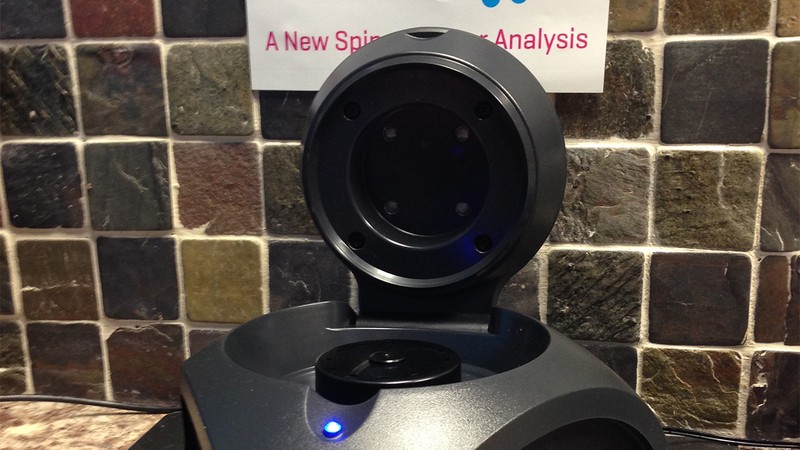 At The Pool Boys we use a state of the art water lab from Lamotte – the WaterLink® Spin Photometer. This lab is user friendly and greatly reduces the chance for user error when testing your pool/spa water. Total Care Weekly customers will have their water analyzed and results are kept on file.
Complete Pool Equipment Inspection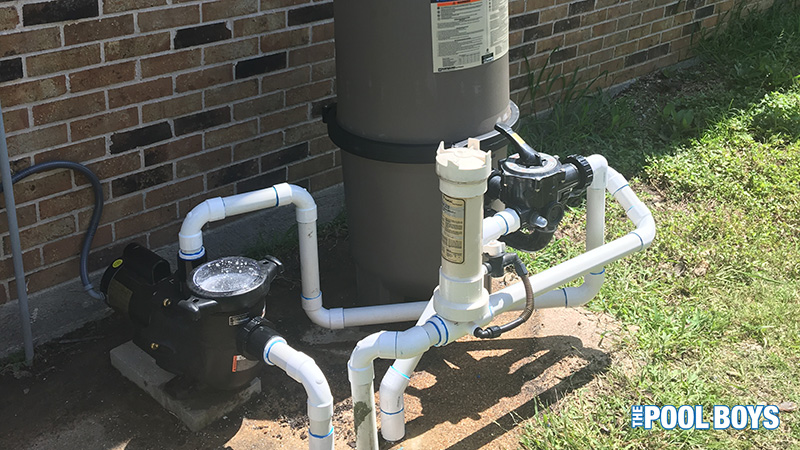 We'll create a customer profile and keep track of the following:
Pictures of your swimming pool and equipment
Run time of your pump
How many skimmers in your system
Type of pool cleaner
Type of sanitization system, etc.
This allows us to do a better job of keeping your pool clean and your equipment working by knowing the system if any issues arise.
During your equipment inspection, we will check things such as the various baskets that are in place to catch and trap debris and check the various o-rings throughout the pool system to ensure that they are in good condition. We'll verify your pump and filter run-time are optimized and in proper working order.
If a repair is ever needed for your pool equipment, Total Care Weekly customers receive free service calls (a $90 value), on equipment repairs. Our Equipment Technicians carry their TDLR RAIL Licenses and are properly trained and insured. As always, we will notify you and provide a full estimate for any needed repairs before any work begins.
Complete Filter Clean Service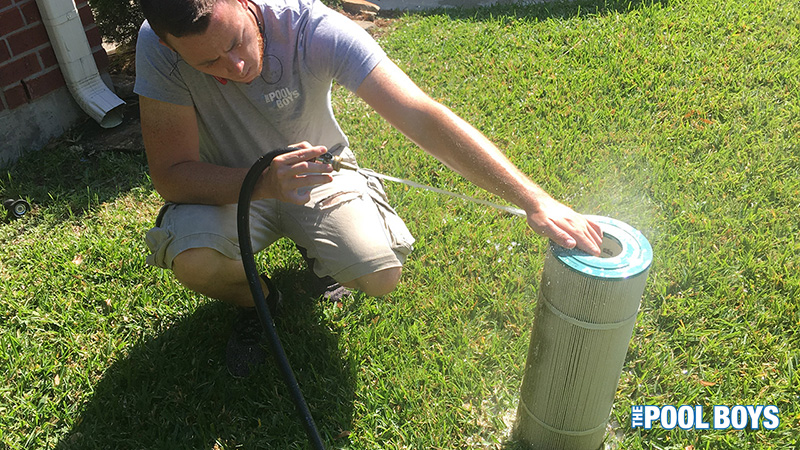 It's important that we know the condition of your pool filtration system at the time we start weekly pool maintenance. When taking over a pool, we want to eliminate all unknown variables that could arise. We look for things like when the filter was last cleaned and any current or potential problems that can make keeping your pool clean a challenge.
This is why we choose to provide one free filter cleaning service on D.E. and Cartridge pool filters at the start of weekly pool service, as well as a full equipment inspection.
ProTeam Supreme Plus Borates System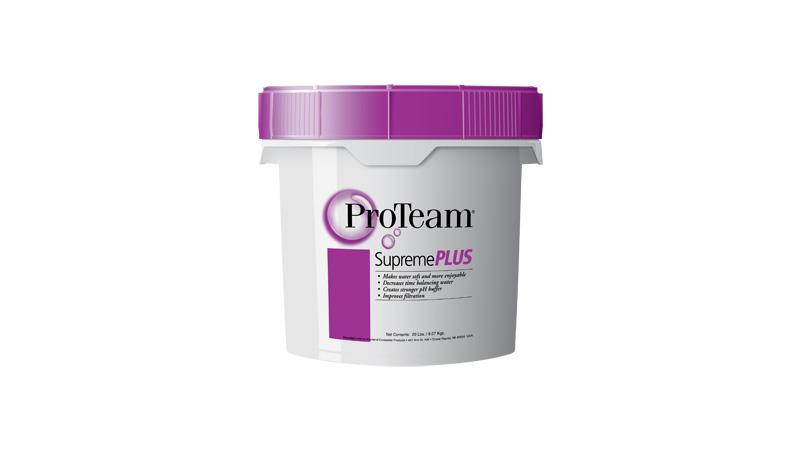 Our Total Care Weekly Pool Maintenance Service includes the addition and maintenance of ProTeam Supreme Plus Borates in your swimming pool. Borates offer several benefits to both our customers (you) and us. Some benefits of ProTeam Supreme Plus Borates are:
Long lasting and effective algae preventive
Improves sanitizer efficiency 35-50%
Reduces eye and skin irritation in pool water
Water will feel softer regardless of your water hardness levels
Gives water a beautiful sheen. Will make clear water appear even more crisp and clear.
Helps to maintain an ideal pH during the pool season.
Compatible with all sanitizer types and pool surfaces
Borates will allow us to do a better job of maintaining your swimming pool, give your pool water a crisp look, and create softer water for improved swimmer comfort. We simply ask that you don't cancel Total Care Weekly Pool Maintenance Service for the first 90 days to avoid a $250 Chemical Use Fee for the Borates we add at the beginning of service. We literally use over $200 worth of Borates on every new Total Care Weekly Pool Maintenance Startup.
Total Care Weekly Pool Maintenance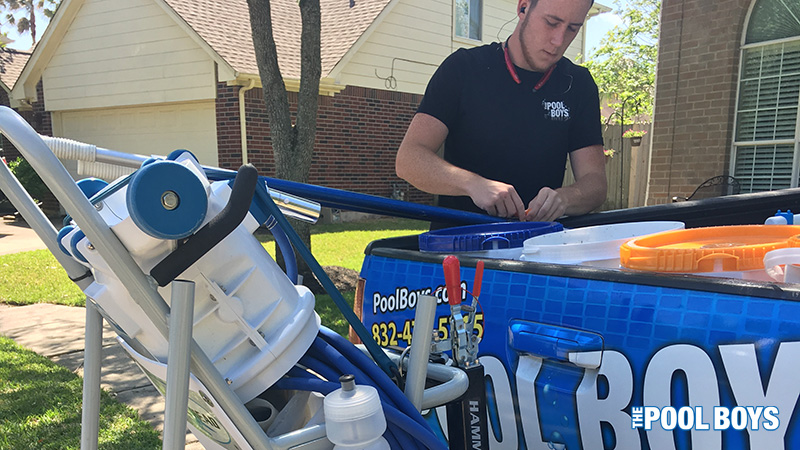 Our Total Care Weekly pool service is designed to take care of all of the maintenance needs of your swimming pool. Our trained maintenance technicians will perform the following tasks each week in order to keep your swimming pool sparkling clean. Once we complete our service each week, we'll email you pictures of your pool before and after, along with a full readout of your pool water test results right to your inbox. Don't you wish all service providers did that?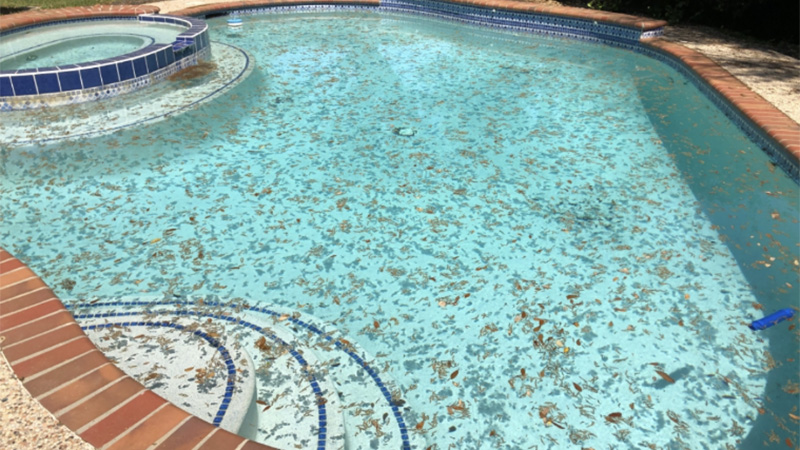 Customer pool before Total Care Weekly service.
Customer pool after Total Care Weekly service.
Net Debris Out of Your Pool
Each week your pool will collect debris whether from the lawn guys blowing it into the pool or a windy storm passing through. Our maintenance technicians will net debris from the surface of your swimming pool.
Vacuum Your Pool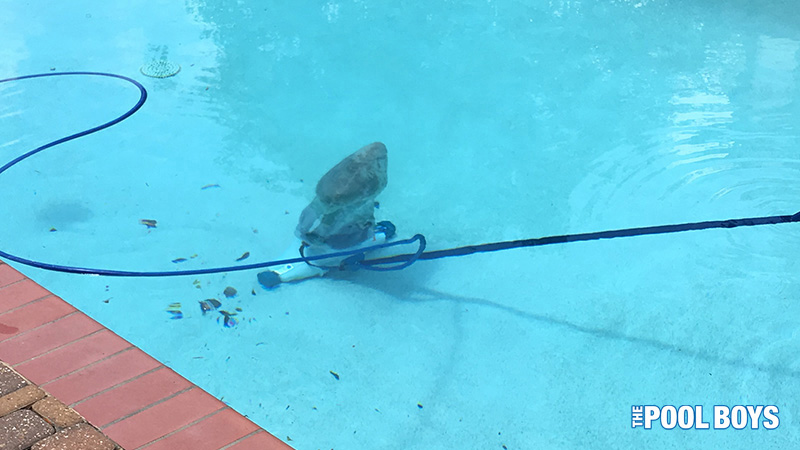 Debris that sits on the surface of the pool will eventually get saturated and sink to the bottom. If there is minimal debris our maintenance technicians will use their net to remove the debris. More debris than normal will require us to use a vacuum to remove it from the bottom of the pool.
Every pool should have some sort of floor cleaning system whether it is a Polaris pool cleaner, Maytronics robotic pool cleaner, or a in-floor cleaning system, like the Polaris Caretaker system which uses a series of pop up heads built into the floor to move debris towards the main drain.
Test The Chemistry Levels in Your Pool
The water chemistry of your pool is one of the most important parts of proper pool maintenance. It is often overlooked or taken lightly. The safety and comfort of your swimmers as well as the clarity of your water all rely on proper chemical balance. Our maintenance technicians are trained on how to properly test and analyze your pool water.
Each week your swimming pool water levels will be tested and recorded in our mobile pool management software. This helps us track the history of your pools chemical readings and make accurate adjustments based off of current and historical readings.
Balance Your Pool Chemicals
Not only do we balance your pool chemicals, we provide ALL of the chemicals. Each week we will add the necessary chemicals to keep your pool water properly balanced. We provide all of the necessary chemicals including chlorine tablets, salt, muriatic acid, and more.
The chemicals provided are of the highest quality, we do not use any knock off chemicals. Using quality chemicals minimizes adverse effects that can occur from using lower quality products.
Brush Walls, Steps, and Benches
Once the debris has been removed from your swimming pool, and the chemicals have been tested and balanced, our maintenance technicians will brush down the walls, benches, and steps to clean them of any dirt or algae that may be starting to develop.
Steps and benches are generally the first place algae begins to develop, generally due to poor water circulation in those areas. We brush the pool after adding chemicals to stir up any added chemicals that may have settled on the bottom. Periodically we will brush down the floor to stir up any dirt or sediment that your pool cleaner may be missing.
Empty All Baskets and Cleaner Bags
During our visits we will empty your skimmer baskets, pump baskets, and pool cleaner bag/basket. Removing the debris from these is important because the debris will start to break down and add more contaminants to the water that promote the growth of algae. Baskets and bags need to be emptied frequently to prevent them from becoming too full. Once they have reached capacity the debris will not be removed from the pool and will sink to the bottom. Skimmer baskets that become overloaded with debris can also result in poor water circulation by reducing the water flow to the main circulation pump.
Pool Equipment Monitoring
Our maintenance technicians will be on the lookout for any problems, or potential problems, that may occur with your pool system. They will monitor your pool filter pressure and watch your equipment pad to see if any areas of moisture develop. Moisture on your pool equipment pad is often an indicator of a leak.
Additionally they will be on alert for any abnormal amounts of air in the system that could mean there is a suction side air leak somewhere. Whenever an issue is spotted you will receive an estimate for repair and an explanation of the the necessary repairs.
Backwashing of Filter
**As Needed, D.E. & Sand Filters
If you have a D.E. or Sand Filter we will backwash it when it is time. If it's a D.E. Filter we will recharge the filter with D.E. Powder after we have performed the backwash. Things like poor water circulation, higher than normal filter pressure, and cloudy water indicate that it is time for the pool filter to be backwashed.
Semi-Annual Service in March and September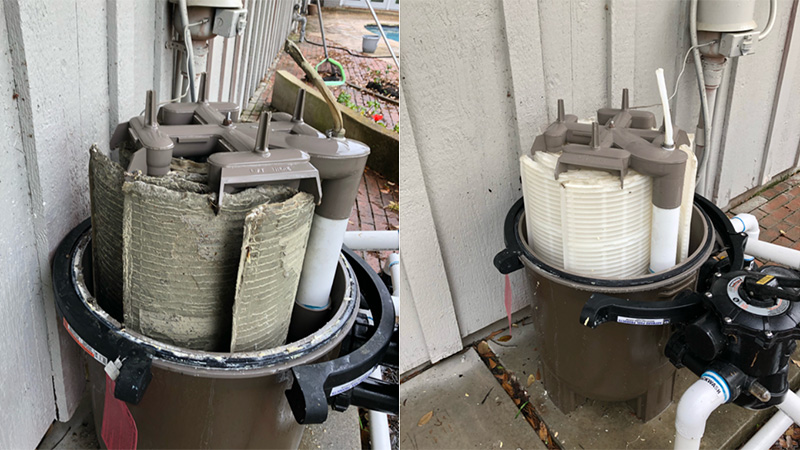 A complete Filter Clean Service and Equipment Inspection will be performed on Total Care Weekly Maintenance customers in March and September of each year. To qualify for a free Filter Clean, you must be a Total Care Weekly Pool Maintenance customer for 2 months prior to a scheduled cleaning. New customers will have already received a Filter Clean Service on startup and will be good until the next semi-annual service period.
In addition, Total Care Weekly customers receive free Repair Service Calls ($90 value) in the event of a repair needed.
Client Responsibilities
Our maintenance technicians will handle the major weekly pool cleaning tasks. Here are a few things that we do not do or may require your help with:
Keeping a good water level in the pool - Our technicians will help monitor the water level in your pool and will leave a note requesting you to add water to your pool when required. We ask our technicians to not add water due to the chance that it is accidently left on.
Emptying baskets/cleaner bag of debris after storms or heavy wind - If your pool accumulates larger amounts of debris in between our weekly visits we ask that you please empty your baskets and cleaner bag as needed. If too much debris collects in these they will not do there job which will lead to longer than normal cleaning stops for our maintenance techs. We appreciate the hand!
Periodically monitor pool filter pressure - Increased filter pressure or lower than normal filter pressure can indicate an issue with your pool system. If you notice abnormal pressure with your filter please notify our office.
Notify our office of any equipment failures that occur - If a problem with your equipment occurs in between our weekly visits please notify our office immediately so that we can get a repair technician out to make repairs before it becomes a larger problem.
Keep the pool running on a normal daily schedule - Your pool needs to circulate for a long period of time each day in order to stay clean and sanitary. Please don't cut back pump run times in order to save energy.
Pool Service Routes are Filling Quickly
Keeping a swimming pool properly balanced and clean is not always an easy task. That's why The Pool Boys are ready to help with our Total Care Weekly Pool Maintenance Service. Call us today at 832-473-5715 to set up an appointment, or check out our Total Care Weekly Pool Service page to submit a request online.