We know that things are out of the ordinary right now. It can be tough to get all of the errands done, keep the kids learning, all while working from home. If you are in need of pool chemicals we've got your back. Give The Pool Boys a call to set up local delivery or curbside pickup of our most popular pool supplies and tools.
Download The Pool Boys Local Delivery & Curbside Pickup Menu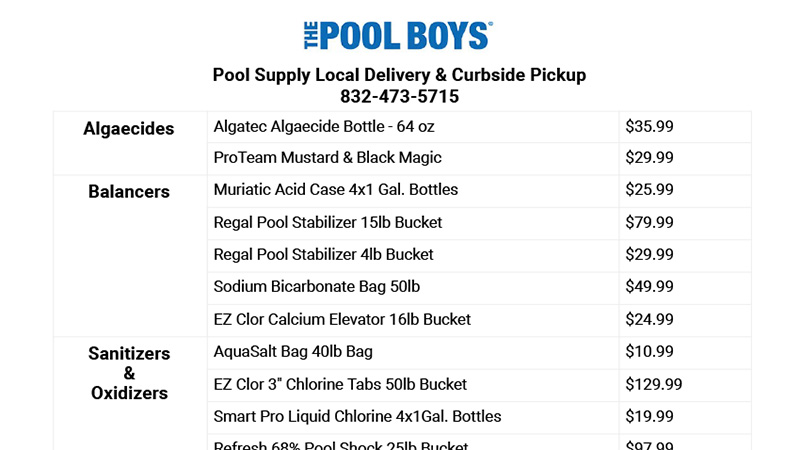 Here are a few things to know:
We are not currently offering water testing at our office at this time.
Curbside Pickup and Local Delivery Only of Pool Supplies and Maytronics Cleaners.
Orders over $150.00 receive Free Delivery in League City, Friendswood and Clear Lake. Delivery charge of $15.00 for all orders under $150.00.
For Curbside Pickup you will be notified as soon as your order is ready and you can arrange a pickup time to stop by The Pool Boys and we'll bring it out to your vehicle.
Most orders can be filled the same or following business day.
Download our Menu above and call Leah at 832-473-5715 to place an order.
Remember, delivery is only available to the following local areas:
League City
Friendswood
Clear Lake
If you are close to one of these areas and would like to check delivery availability please contact our office at 832-473-5715 between 8 AM and 4 PM Monday through Friday.
This service is temporary in an effort to assist our community and streamline the task of going out and purchasing pool chemicals.
Don't forget, The Pool Boys provide Total Care Weekly Pool Maintenance Service as well as complete Pool Equipment Installation and Repair. Give The Pool Boys a call at 832-473-5715 for all your pool maintenance needs.