At The Pool Boys in League City, we are equipped to diagnose and repair all types of Maytronics Robotic Cleaners. We have the training and experience to diagnose and determine which repairs are necessary to get your cleaner working again. If you are experiencing any issues bring your Maytronics Dolphin Cleaner by and let us take a look!
Although we carry a lot of parts for Maytronics Cleaners, there are too many to carry them all. In most cases, plan for your cleaner to be here 3-5 days. In the event that a part has to be ordered from Maytronics, it can take 7-14 days from the time the part is ordered until we receive it. As our Maytronics Repair Department continues to grow we are adding more and more to our parts inventory in an effort to expedite your repair service. We know it's a pain to go without your Maytronics Cleaner!
Maytronics Dolphin Warranty Center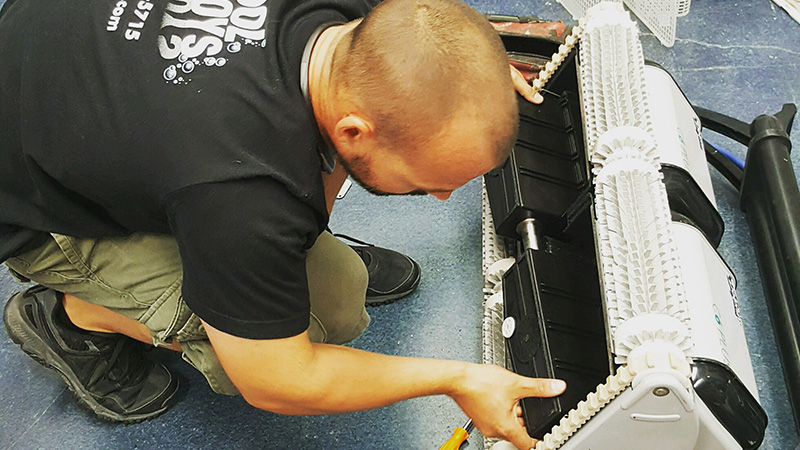 As an Authorized Maytronics Warranty Center, The Pool Boys are equipped to provide proper diagnosis, process warranty claims, and make repairs. If you are unsure of whether your cleaner is still under warranty, bring it by and we can find out for you. Be sure to always register your Maytronics Cleaner immediately after purchase to take full advantage of the warranty.
If you have a Maytronics Commercial Cleaner in need of warranty or repair The Pool Boys can help you get it fixed. If you have any questions on warranty or repairs please contact our office at 832-473-5715, or visit our store in League City, just off I-45 and FM 518 at 400 Hobbs Rd. #105 in the Hobbs Road Business Park.