When it comes to Robotic Pool Cleaners, Maytronics Dolphin cleaners are the bee's knees. We have had hands on experience and years of customer feedback on most robotic pool cleaners and Maytronics clearly stands out as the best.
The investment into a Robotic Pool Cleaner can be hefty, but is it really? When you compare things such as cleaning results, warranties, and failure rates between Robotics, Pressure-Side, and Suction Side Cleaners it is a night and day difference. If you aren't familiar with the types of cleaners I just mentioned read my article on Automatic Pool Cleaner Pros and Cons to gain a better understanding of the different types of pool cleaners.
Pool Cleaner Performance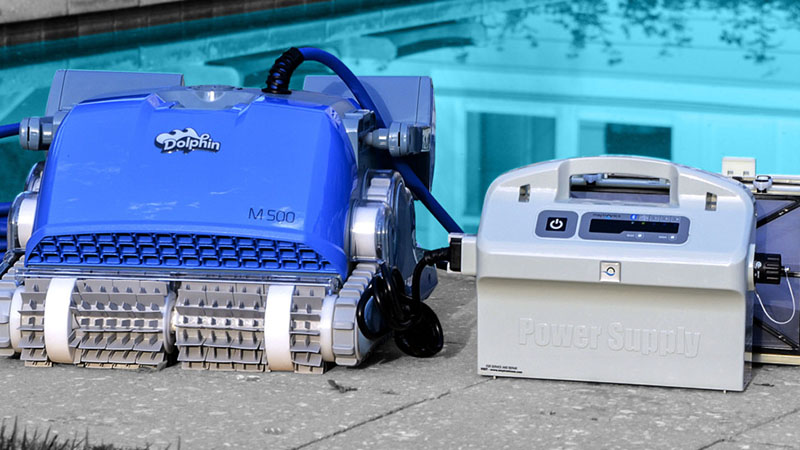 Pressure Side and Suction Side Pool Cleaners are outdated, old-school technology in my opinion. Maytronics Robotic Cleaners are self contained and run separately from your pool system. If your pool pump goes down you can still use your robotic cleaner.
The higher suction rate of a robotic cleaner allows it to do a better job of lifting the debris off of your pool surface into its filter. Most models come with a series of roller brushes that are actively scrubbing your pool floor, walls, and tile line. The scrub on the end of the Pressure Side Cleaner Tail is supposed to be scrubbing your pool and it doesn't come close to doing as good of a job.
Another great benefit of Maytronics Cleaners that should be mentioned is the water filtration. Some models come with filter panels that filter your pool water at the same micron level as a Swimming Pool Cartridge filter.
Let's recap - Stronger suction, extensive scrubbing, cleans floor - wall - and tile line, and the water is being filtered. Sounds like a clear winner to me!
Pool Cleaner Warranties
Most Robotic Cleaners come with longer manufacturer warranties, sometimes up to 4 years. As an Authorized Maytronics Warranty Center I can confidently say, Maytronics are excellent about handling any warranty related issues. They want to make sure that their customers are taken care of and satisfied with their purchase. Compare that to the 1 year manufacturer warranty that you get with a pressure side or suction side cleaner such as the Polaris 380 or Hayward PoolVac.
Something that is not mentioned at the time of purchase - a majority of the items on your pressure side and suction side cleaners are considered "wear items." Wear items are not covered by warranty and include parts such as bags, tail scrubs, wear rings, tires, and bearings. However if any of these are bad out of the box I don't see any issue getting them warrantied.
Pool Cleaner Failure Rates
In my own personal experience the failure rate of pressure side and suction side cleaners is much higher than Maytronics Robotic Cleaners. As I mentioned, a lot of the parts on those cleaners are called "Wear Items," meaning they WILL wear out. This doesn't mean that Maytronics Robotics are free of wear items. They have roller brushes, drive bearings, tracks, and filter screens that will eventually wear out and need to be replaced. However, I see much more time between replacements of these items compared to other types of cleaners.
One factor that I believe plays a part in this is that most people don't leave their robotic cleaners in the pool 24/7. In fact, the manufacturers of ALL cleaners don't recommend leaving the cleaner in the pool 24/7. When you spend the money on a Robotic Cleaner, which in most cases come with a caddy, you generally take better care of it.
Most people only run their Robotic 2-3 times per week because they do such a good job. When it isn't being used I recommend storing it on the caddy somewhere out of the sun and weather. This will get you a lot more mileage out of your Maytronics Cleaner. The image above shows a customer built Dolphin Shed to protect his investment when not in use.
Getting the Right Pool Cleaner for Your Needs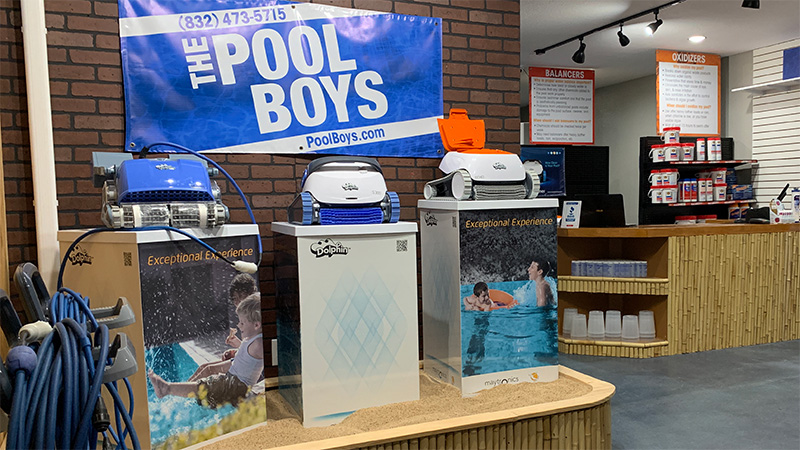 Maytronics Robotic Pool Cleaners are gaining more popularity each year because they deliver real results. Booster pumps, pressure side cleaners, and suction side cleaners are becoming a thing of the past. If you ever run into having to spend money on replacing a booster pump or cleaner I strongly recommend putting that money towards a robotic.
If you are looking to buy, we are the only Maytronics Gold Elite Dealer in the Houston area and stock several models of Maytronics Dolphin Robotic Cleaners. Check our Contact page for directions, and if you would like to try a Maytronics Cleaner in your pool come by our League City retail store and ask us about our Maytronics Cleaner Demo Program.