It is awesome to watch the pool industry finally start to make big advances in the technology world.

Pentair's new Intellivalve Actuator now makes it possible for pool owners and pool professionals to adjust the actuators without having to disassemble the unit and mechanically adjust the valve cams; saving frustration and time.
A huge advancement in technology with only a slight advancement in cost when compared to a standard valve actuator, coming in around $40-$50 more.
The revolutionary IntelliValve Valve Actuator lets you set just the right flow for water features. Its intuitive controls and LED position indicator lights make operation fast and push-button easy. Thirteen (13) bright LEDs provide a clear visual indication of the valve position from fully open to fully closed and everywhere in between. Simply use the left/right and Save buttons to set the perfect flow rate in just seconds.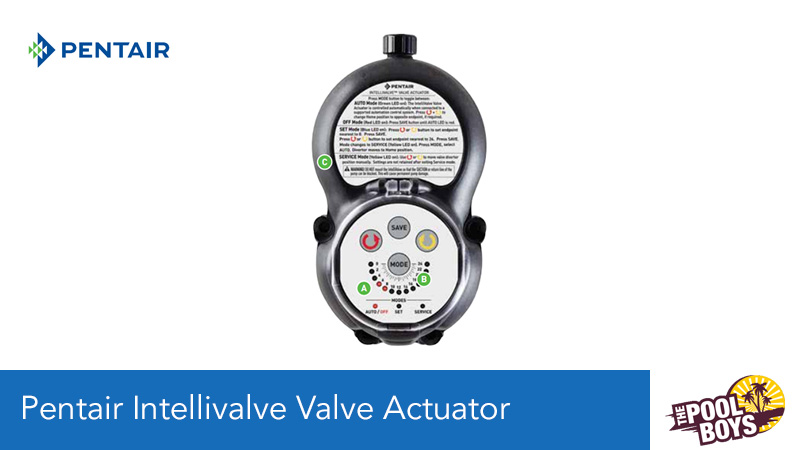 Intellivalve Features
Thirteen (13) LEDs give precise, easy-to-read indication of valve position
Built-in interface allows quick and simple setup of water flow
Minimalist design is compact and fits easily with any equipment pad.
Sealed, maintenance-free design is weatherproofed for maximum reliability and extended service life.
Suitable for 1.5", 2", 2.5" and 3" valve sizes
24-volt operation for use with standard automation systems
750mA max amp draw
Adjustable in 3.75-degree increments within the maximum 180-degree swing
UL Certified
Download Intellivalve Brochure

Download Manual

Stop by The Pool Boys in League City to pick up your own Pentair Intellivalve Valve Actuator today, or give Zac a call to set up an appointment to have one installed for you.
The Pool Boys
400 Hobbs Rd. #105
League CIty, TX 77573
Phone Number: 832-473-5715
Email: This email address is being protected from spambots. You need JavaScript enabled to view it.
Manufacturers Website: http://www.pentairpool.com/products/automation-intellivalve-valve-actuator-478.htm