Here in the Gulf Coast market, our pools stay open 12 months out of the year. However, let's be honest, in the heat of the summer or the cold months of winter, the pool isn't always enjoyable. Heating or cooling your pool can be a great way to extend your swim season by bringing the water to a temperature that is comfortable for you and your family.
Need immediate service for your Pool Heater or Cooler? Give The Pool Boys in League City a call at 832-473-5715, or after hours, Contact Us online.
There are several different choices of equipment you can add to your pool pad to help you heat or cool it. On the heating side you have Gas Heaters and Heat Pumps and on the cooling side you have Glacier Pool Coolers and AquaCal Chillers. Determining which one you should go with is all a matter of answering a few simple questions about what your end goal is.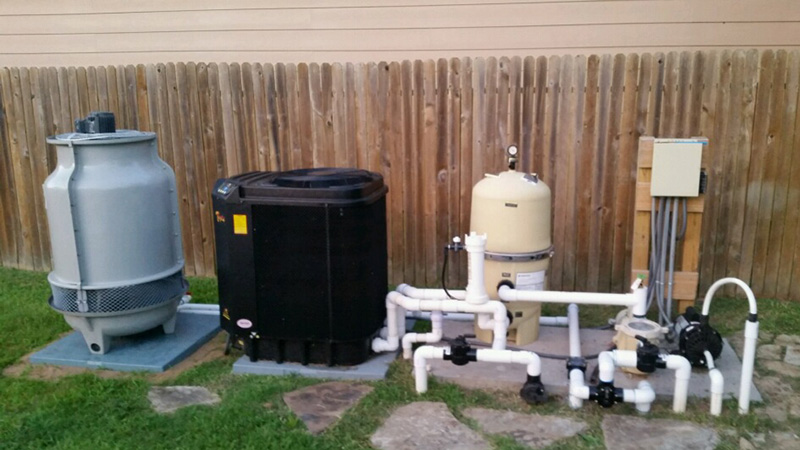 Here's some ideas on what you need to be considering:
Do you have a pool only, or do you have a pool and spa combination?
Do you plan on heating the pool during the coldest times of winter?
What's more important, heating the pool a time or two in January, or extending the time of year that you can comfortably use the pool?
Towards the end of summer is your pool water similar to a warm bath and not very refreshing?
Determining your stance on each of these questions will help steer you towards the best product or products for your needs.
Gas Pool & Spa Heaters
New Hayward Gas Pool Heater Installed by The Pool Boys
If you have a pool and spa combo you will need a gas heater for the spa. A heat pump could possibly heat the spa, but it would be very inefficient with the time it would take to heat it and wouldn't work in the coldest months. Gas Pool Heaters are the best way to heat your spa as well as heat your swimming pool quickly for that one-time weekend birthday party in February. If you were to use a gas heater through the colder months to maintain a higher temperature it would cost a small fortune on your gas bill. The Pool Boys sell and install natural gas and propane Pool and Spa Heaters, depending on what your home is equipped to handle.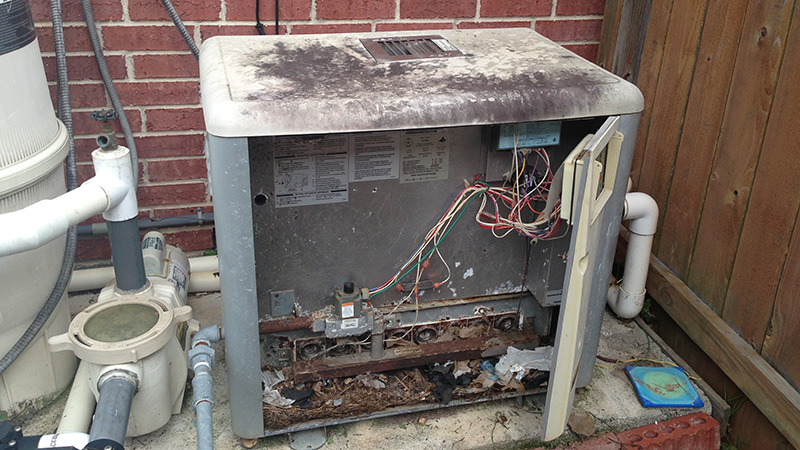 Neglected Pool Heater with Rodent Infestation
PRO TIP - For at home maintenance of a gas heater we recommend turning your heater on at least once a month for 20-30 minutes. This will clear out any rodents that may be starting to build a nest inside and will also ensure that all of the components are working. Left unattended, rodents can quickly destroy your heater.
Keep in mind, poor water chemistry is one of the fastest ways to damage the copper heat exchanger in your pool heater. Be sure to consistently test and balance your pool water even through the winter months.
Heater diagnosis and repair is a service that The Pool Boys have extensive experience with. As an Authorized Hayward, Pentair, and Jandy dealer, we can help you find just the right heater for your specific needs. Give us a call at 832-473-5715 to speak to a professional, or visit our On Point Checkup page to schedule a service call.
Planning For Installation of a Gas Heater
Several things should be taken into consideration when installing a new pool heater. Gas meter sizing, sediment traps, corrosion resistant check valves, available space, and window location to name a few.
Other considerations such as the fact that a Hayward FD Series Pool Heater comes standard with a cupro-nickel heat exchanger for more durability and a longer life or the Jandy JXI and Pentair Mastertemp are a good choice for their small footprint if you do not have a lot of room on your pool equipment pad. Give The Pool Boys a call at 832-473-5715 when you're ready to discuss your Pool Heater options.
Pool Heat Pumps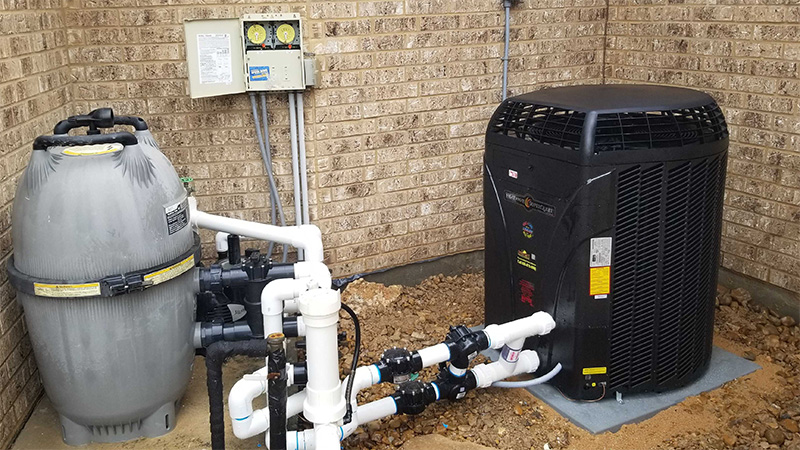 Aquacal HeatWave SuperQuiet Heat Pump & Pool Chiller Installed by The Pool Boys
By the time your cold pool water naturally heats up to a comfortable temperature summer has already started... Swimming Pool Heat Pumps are an excellent way to extend your pool season, potentially by months, and not end up breaking the bank.
These units do not use any gas, but run only off electricity and draw the heat out of the air to heat your pool water. They generally take a few days to bring your swimming pool up to your desired temperature, so they are not recommended for use as a spa heater.
Once the desired temperature has been reached the heat pump will maintain that temperature for a much lower monthly cost than a gas heater.
Pool Chillers
Pool Chillers allow you to maintain a refreshing water temperature in the hottest of months here in the Gulf Coast of Texas. Swimming pool chillers use refrigerant to lower and maintain the temperature of your swimming pool water. They are large in size and take up a bit of space.
Chillers usually have digital controls that allow you to set an exact temperature to try to achieve and maintain. Keep in mind that the amount of degrees you can drop is limited on the current outside temperature, but even just a 5-8 degree drop makes a huge difference on those hot summer days.
Glacier Pool Coolers
Glacier Pool Cooler installed by The Pool Boys in League City, TX
Glacier Pool Coolers are a lot different in design than a pool chiller. The cooler works by a fan cooling the water as it rains down inside of the unit. They do not have digital controls, simply an on/off switch and no temp readings. You simply turn it on and get what you can get out of it. This less complex design means there are less components to potentially have issues with, as well as a lower price than a pool chiller.
With a cooler, most of the water is returning through the normal circulation system and the other portion flows through the cooler. With Glacier Pool Coolers we recommend running them at night during the cooler temperatures, which seems to produce better drops in water temperature. When you need a pool professional for service or installation, The Pool Boys are an authorized Glacier Pool Cooler dealer.
Whether you need a complete heater or chiller install, or service on your existing equipment, give The Pool Boys a call at 832-473-5715. After hours, visit our Contact page or use the simple On Point Checkup form to schedule a service call.