The Pool Boys are an Authorized Dealer for Hayward, Pentair and Jandy Pool Pumps. Our Licensed Technicians provide pool pump sales, service and installation as well as diagnosis & repair on most residential in-ground pool pumps and pump motors in League City, Friendswood, Clear Lake, Pearland and the surrounding area.
Our staff can help you decide which style of pump has the benefits and features you need, and our Service Techs can properly install and set up your new pool pump to get the full benefit of a factory warranty.
Need immediate service? Call 832-473-5715.
Recently we've seen a trend of pool owners switching to Variable Speed Pumps to achieve a quieter pool pump coupled with greater energy savings.
The initial cost is more than a comparable quality single speed pump, but the cash savings on electric bills add up year over year.
A VS Pump will literally pay for itself in 2-3 years in most cases, and continue to run for years at the reduced cost.
Not to mention 2, 3 and sometimes 4 Year Manufacturer Parts & Labor Warranties when professionaly installed by The Pool Boys.
Main Circulation Pool Pump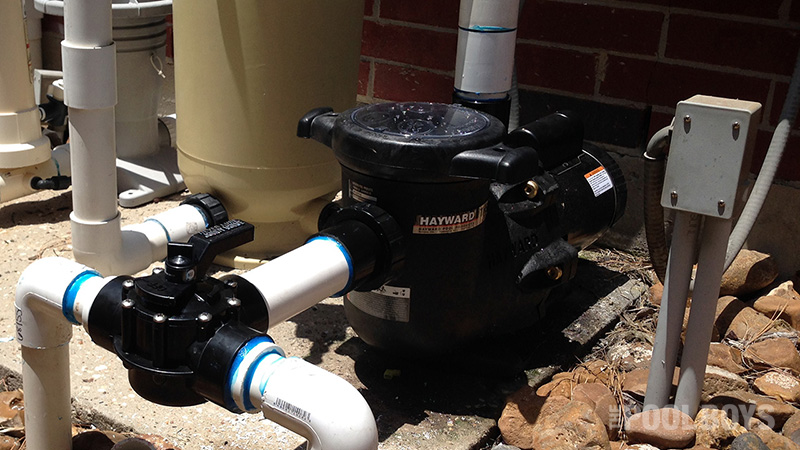 Pool pumps can serve several different purposes. Every pool system has at least a main circulation pump. This pump acts as the heart of your system, circulating the water from the pool through the filter and any other equipment, and back to the pool.
Without the main circulation pump you would end up with a stagnant body of water and eventually a swamp.
Additionally you may have secondary pumps that run water features, spa jets, lazy rivers, swim jets, or a pool cleaner. Every pool system has its own unique setup.
Your main circulation pump needs to run for a minimum of 8 hours a day in most cases to properly circulate your pool water 1 to 2 complete turnovers in a 24 hour period.
Things like size of pump, size of plumbing and gallons of pool water are all taken into consideration when determining the correct amount of time to run your pool pump each day, as well as determining the proper pump size for replacement.
If you're in need of repair or thinking about upgrading your Pool Pump, give The Pool Boys a call at 832-473-5715 or submit a Service Call request online.
Single Speed Pumps and the EPA DPPP Mandate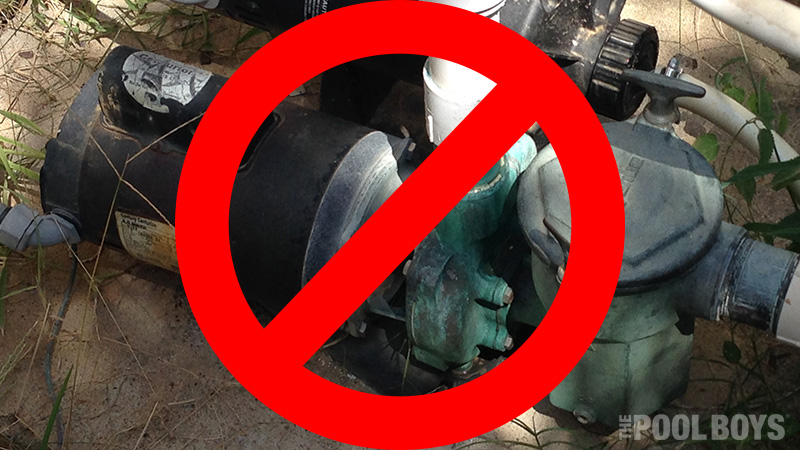 July 19, 2021 is stated to be the day that Single Speed Dedicated Purpose Pool Pumps (DPPP) may no longer be installed in residential pool systems. These include single speed pool pump models such as the Hayward Tri-Star and Max-Flo XL, the Jandy FloPro or the Pentair Challenger and SuperFlo single speed pump models.
You may install single speed pumps on water features, pool cleaners, etc… but after July 19, 2021, you may only install a Variable Speed Pump for the main circulation unit. There is current discussions involving single speed replacement motors being included in this new law as well.
Visit the link below if you want to dig deeper. Or, just give The Pool Boys a call and we'll get you fixed up. 832-473-5715.
https://www.federalregister.gov/documents/2018/09/11/2018-19577/energy-conservation-program-energy-conservation-standards-for-dedicated-purpose-pool-pump-motors
Variable Speed Pumps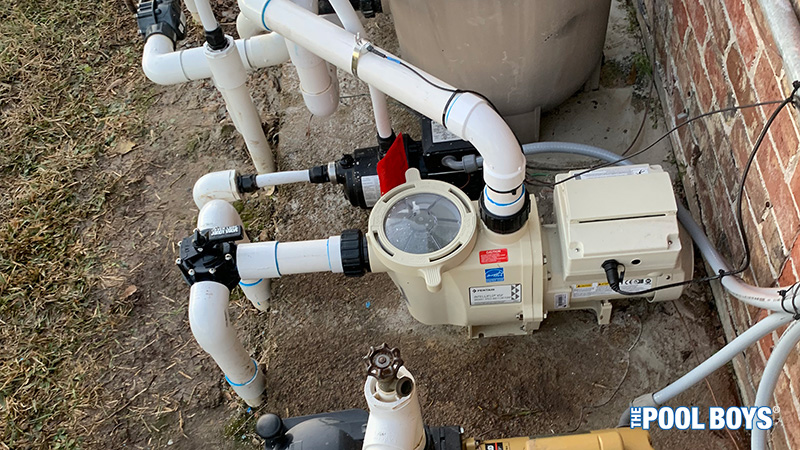 Switching to a Variable Speed Pump is a pretty good idea. Technology is rapidly advancing and you can save a substantial amount of money on electricity each month by switching to a Variable Speed Pool Pump such as the Pentair Intelliflo shown above.
Variable Speed Pumps work by allowing you to customize the speed (RPM) and time that the pump runs.
In a nutshell, Variable Speed Pumps end up paying for themselves over time by running at a lower speed, using less energy.
Additional benefits of Variable Speed Pool Pumps are that they generally run more quietly than single speed pumps; and the lower speed of the water flow will allow your filter to do a better job filtering the water.
If you're ready to talk about your specific pool pump needs, give us a call at 832-473-5715.
Cleaner Pumps
Cleaner Pumps, also referred to as Booster Pumps or Sweep Pumps, are the driving force behind pressure side cleaners like the Polaris 280, Polaris 380, and Polaris 3900 that are commonly seen in swimming pools. These pumps take water that is already running through the system from your main circulation pump and boost it to create the pressure that drives these cleaners around.
As seen on the left above, these pumps are standard 3/4hp and have no basket to clean or empty. If they run dry, the seal leaks and motor failure can occur.
If you think your Cleaner Pump is failing, turn off the timer for the Cleaner Pump and give The Pool Boys a call at 832-473-5715, or schedule a Service Call online. We can install most cleaner pumps the same or next business day of the service appointment.
Pump Motors
Sometimes, all you need is a quality replacement pump motor, and you're back in business. The Pool Boys carry new replacement motors and additional parts in our Service Vans just for this reason. We can usually replace your pump motor with an OEM replacement, and back it with a full Manufacturers Warranty.
I Know a Guy and Cheap Online Pool Parts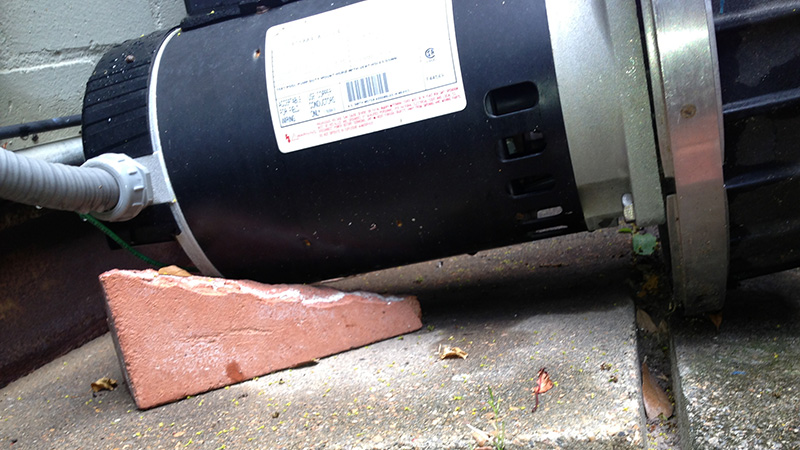 Image above: Pump installed by 'a guy I know'
Let's face it, we can't compete with online resellers on pool equipment pricing in most cases. We've seen prices on 3rd party seller websites cheaper than our cost from our local distributor. Who knows where they get their parts from?
Manufacturers are starting to crack down on this by offering 'Expert Line' products to professional installers such as The Pool Boys, that aren't available online. We source our parts locally and can get most jobs completed the same or next business day. The State of Texas requires Residential Pool Equipment to be installed by a Licensed Professional.
The Pool Boys are a Texas Residential Appliance Installation Contractor: TICL728.
The Pool Boys employ 3 Licensed Texas Residential Appliance Installers and have 2 fully stocked service vans on the road every day making repairs and installing pool equipment.
OEM's are also reducing warranties to just 30 days, or no warranty in some cases for parts purchased online and not installed by a licensed pool equipment professional. Check out this article from Jandy on Why You Should Use a Pool Professional.
Quality Service You Can Trust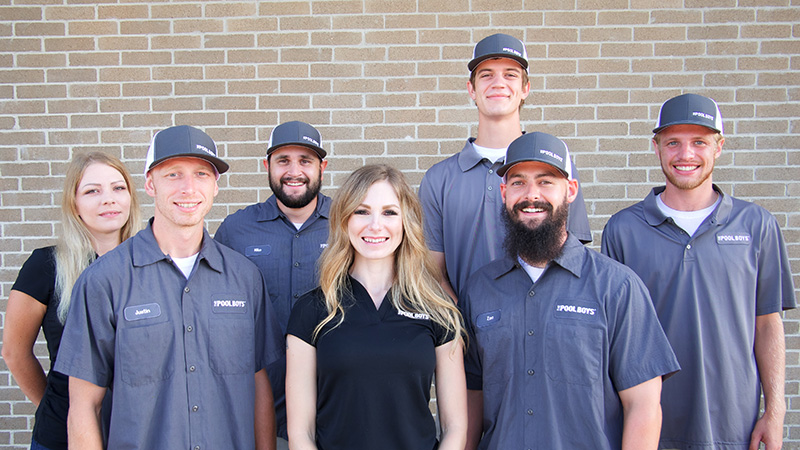 What The Pool Boys do offer is same day or next day service in most cases, with quality OEM parts from Jandy, Hayward, Pentair and many more sourced locally from one of the largest Pool Equipment distributors in the USA.
We're more than competitive on local 'Big Box' pool supply store prices, and we can get just about any major Pool Equipment component within a day or two if there's one to be had within the Continental US.
The Pool Boys keep the most popular part numbers in stock at our store in League City. Backed by our knowledgeable sales staff and licensed service technicians, you can rest easy knowing it's fixed right with quality parts and a full manufacturer's warranty from a local company that's been in business since 2011.
Rebates and Warranties
Speaking of Warranties and Rebates, we do honor most factory rebates, and will work with you to make sure you're getting the best value for your money with your Pool Pump purchase. Ask our staff about current rebates and savings. Pool Equipment Packages can save you money as well. Call our office today at 832-473-5715 with any questions, or submit a request for an On Point Checkup Pool Equipment Inspection today!