There is a wide selection of controls out there to operate your swimming pool equipment. In the past, a majority of pools were operated by mechanical timers that required a pool owner to go outside to the pool equipment to operate. Over the last 20 years, Automated Pool Control Systems have greatly increased in popularity making it even easier to control your pool.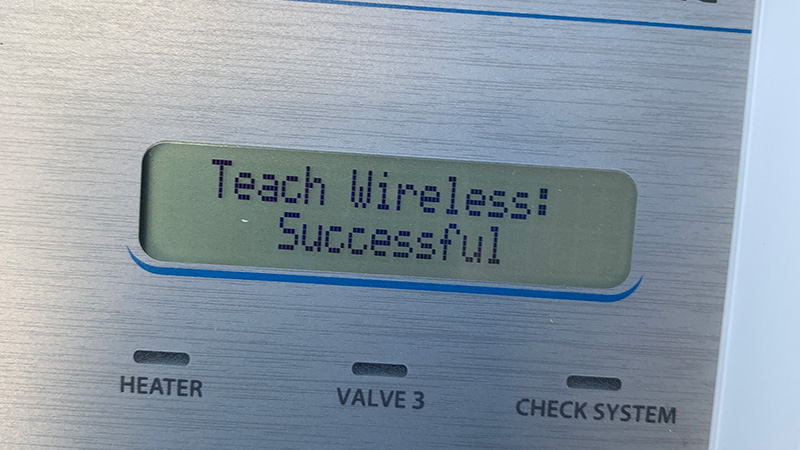 Many Pool Automation Systems today include WiFi Control using your mobile device.
Most Pool Automation systems today come with, or have the option to add, WiFi control using your mobile device. This technology allows you to control and monitor your swimming pool from almost anywhere using your cellphone, tablet, or laptop.
It's very cool to see all of the different systems and features available today, and keeps us excited for what is to come in the future.
Mechanical Time Clocks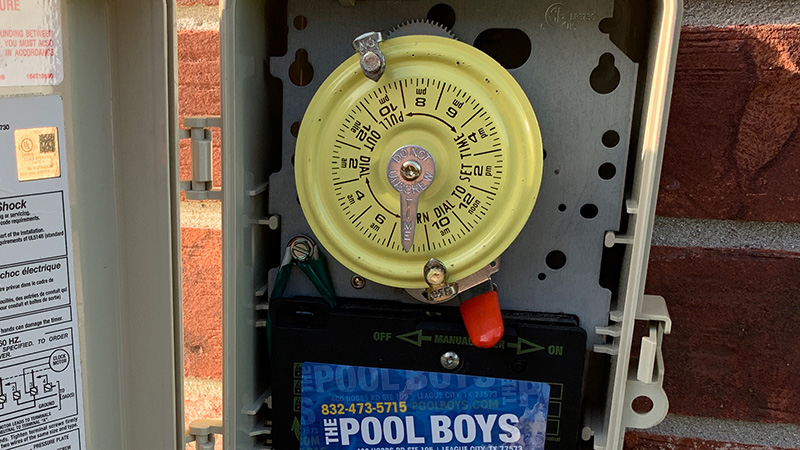 Mechanical Time Clocks have been the industry standard in pool control for years.
Mechanical time clocks still make up a little less than half of our local market here in League City, TX. These timers are very simple to use and have nothing more to offer than setting a daily schedule or manually turning your pump on and off. These controls lack the ability to have any sort of wireless control or automation to your equipment.
With all of the new entry level systems available today it's easier and more cost effective than ever to bring your system up-to-date and start controlling your pool with your phone.
Automation and Pool Control Systems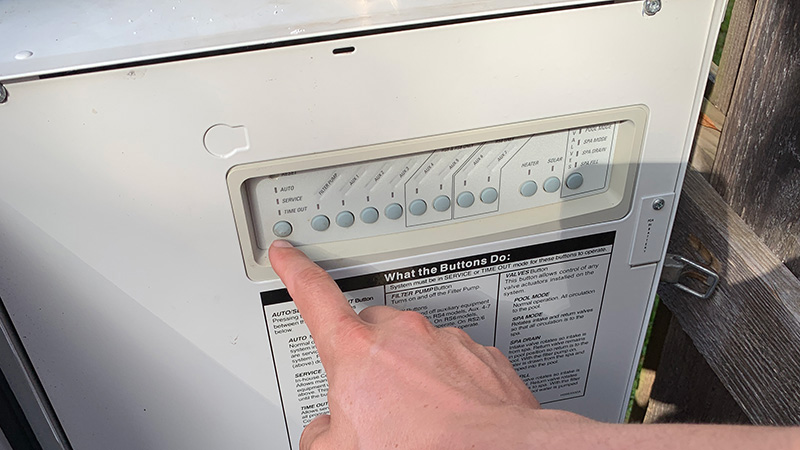 Jandy Aqualink Power Center Control Panel
With technology advancing and becoming more of the norm, pool automation systems are gaining in popularity. In past years you were limited to a handful of expensive automation systems that were geared for more complex equipment pads with multiple pieces of equipment to control. Today there is a large selection of systems to choose from and several of them are specifically designed with a more simple pool setup in mind.
Entry Level Automation Systems
Pentair IntelliConnect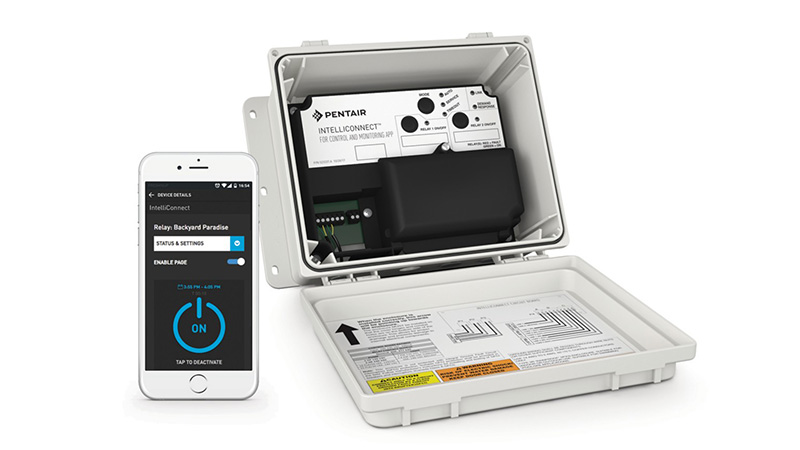 The Pentair IntelliConnect is compact, affordable and works with your phone.
The Pentair IntelliConnect system is small in size and replaces any single or dual mechanical time clock. With this system you can download a free app, Link2.0, which will allow you to set your pump schedules, turn equipment on/off, and even allow you to control a Pentair IntelliFlo VSF Variable Speed Pump. You can do all of this, and more, from the convenience of your couch via your mobile device. The Pentair IntelliConnect is very affordable and easy to use.
Pentair IntelliConnect Features:
Conduct all scheduling, operation and adjustments right from your smartphone. 
Get in-app notifications of maintenance and performance improvement recommendations. 
Receive useful maintenance tips to guide you, whether you are a new or seasoned pool owner.
Plus, more information to help you get the most from your backyard lifestyle investment.
Jandy iQPUMP01 VS Mobile Pump Interface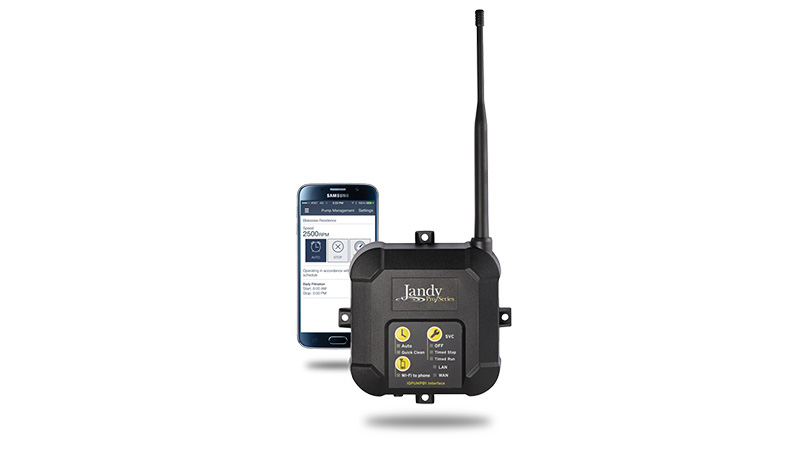 Jandy's VS Mobile Pump Interface is perfect for phone control of your Jandy Pump.
Designed to be used exclusively with a Jandy Variable Speed Pump, the iQPUMP01 is compact, easy to use and takes very little space on the wall. The iQPUMP01 doesn't require any direct power which eliminates any electrical work. You simply connect it to the variable speed pump and the pump powers it.
Once installed, you can control the pump directly using almost any iOS or Android smartphone by downloading the free iAquaLink app and perform tasks such as setting schedules and changing pump speeds on the fly.
Hayward OmniHub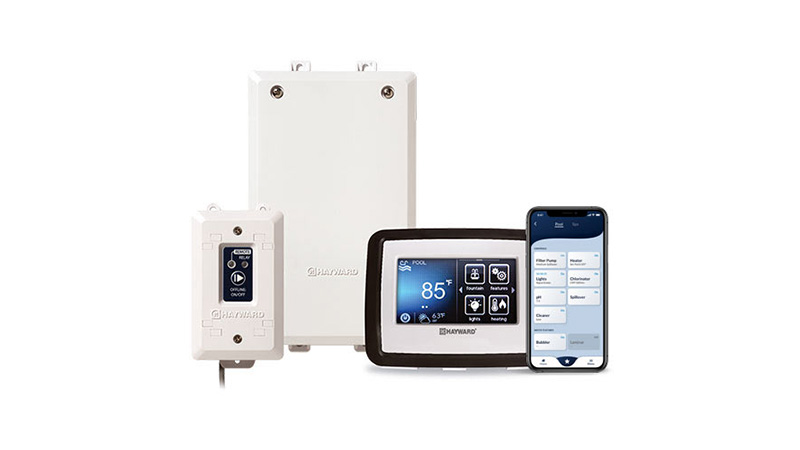 Hayward OmniHub Packs a lot of Features into their Entry Level Pool Automation System
Out of all the entry level automation discussed on this page the Hayward OmniHub gives you the most control. It can control your spa and valve actuators, whereas the Intelliconnect and IQPUMP01 cannot. This system still has its limitations when compared to a full feature system like the Hayward OmniLogic, but is a great choice when you have a small to midsize equipment pad.
Hayward Omnihub Features:
Easiest and most affordable way to add total-pool smart control to nearly any existing pool
New OmniLogic® smartphone app makes controlling your pool and spa equipment simple and even more intuitive
Convenient control by app or voice assistant: Access, manage, and schedule from anywhere via iOS and Android smartphones and voice controlled devices, including Amazon Alexa, Google Home and Google Assistant
Seamless integration: Compatible with Hayward pool products and most pool equipment brands for entire pool and spa pad control. Now supports full control of Pentair Intelliflo variable-speed pumps* with optional daughter board
Smart Home: Works with popular home automation systems including Nest®, Control4®, Crestron4®, Elan and RTI
OmniHub includes: wiring base unit, control pad, and 1 Smart Relay for control of equipment including variable-speed pumps, heaters, pool/spa lighting, spa equipment, and AquaRite salt chlorination systems* with an optional daughter board.
Flexible & scalable: Ability to add up to 2 additional Smart Relays for even more control including booster pumps, cleaner, backyard lighting, and water features, 2 valve actuators for Pool/Spa/Water Feature control as well as control 2 additional Variable Speed Pumps
It is a great add-on if you currently have a Hayward Variable Speed pump and would like to be able to control it remotely. That being said, it does not require you to have a Hayward VS Pump, it can control all types of single speed pumps and several other pieces of equipment like a cleaner pump or heater.
Mid Level and Full Feature Automation Systems
Hayward OmniLogic Installed by The Pool Boys in League City, TX
If your pool system demands more out of an automation system than what the entry level systems have to offer we would recommend the Pentair IntelliCenter or the Hayward OmniLogic.
These systems generally start as a mid level system that can be built up by adding more relays, adding a salt cell, adding actuators, and so on. With these automation systems you have the option for WiFi control using your mobile devices, a handheld remote, or an interior wall mounted controller. They can handle multiple variable speed pumps, multiple heaters, lighting, and more.
There are different pre-established packages for these systems that have better pricing than if you were to purchase each piece a la carte. The first thing to do is to take an assessment of all of your existing equipment along with any equipment you wish you had.
Due to the many different models of mid level and full feature pool automation systems, we have selected the newest models from Pentair, Hayward, and Jandy to list here.
Pentair IntelliCenter Control System
Pentair IntelliCenter with VSF Pump and Heater Easily Controlled by Your Phone.
The Pentair IntelliCenter is the newest system to hit the market. It comes with a touch screen interface similar to that of an iPhone. The touch screen is a capacitive touch display and will not lose calibration. The system can be built by purchasing each item individually or in a bundle pack option, which I recommend.
There are several different bundles available and they will come in at a better price than buying individual pool equipment components. There are options for pool only or pool/spa combo and there is even an option for going with saltwater.
Most bundles are going to include the WiFi control kit for control with your mobile device, but there are also options to add an Indoor Wall Panel or Wireless Remote should you choose. You can also control the IntelliCenter using Amazon's Alexa and your Apple Watch, which are pretty awesome features.
Whenever Pentair issues an update, the Intellicenter will receive the update over the air with no need to use a USB stick. You can also connect an ethernet cable directly to the system for faster response.
Just because you purchase a certain bundle does not mean you are limited to only those features. You will have plenty of options to expand and add if you choose to do so in the future. That being said, it is better (and more cost effective) to try to get it the way you want it the first go-around.
Pentair IntelliCenter Features:
Provides real-time email alerts
Easy to use, intuitive user interface on touchscreen interfaces with multiple controller options
Optional indoor control panel and wireless remote
Controls spa jets, lights and light shows, blower, water features remotely
Interfaces with iOS®, Android® mobile devices, Apple Watch®, Amazon Echo® and Google Home® smart speaker, enabling owners to check their pools status remotely
Hayward OmniLogic Smart Pool and Spa Control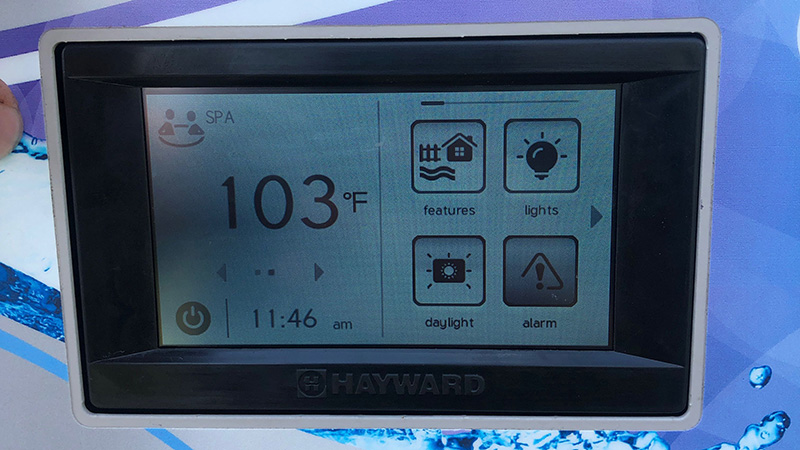 Hayward OmniLogic Easy to Use Touch Screen Interactive Display
Hayward's OmniLogic system is next level. This system has a touch screen interactive display that is easy to navigate. The base system comes with just the main box and 4 high-voltage relays to control four pieces of on/off equipment. This base package is ideal for a pool only system with 4 or less on/off items, such as single speed pumps, spa blower, lights, and so on. The OmniLogic has the capability to seamlessly control Hayward ColorLogic Lights when using the OmniDirect versions.
If you have a pool or pool and spa combination you can add on items to meet your systems needs. Even though the box starts with 4 high-voltage relays you can add up to 10, giving you the option to control more equipment. For pool and spa combination systems you can additionally purchase two Hayward Goldline GVA-24 valve actuators to switch between pool mode and spa mode. If you would like to convert your system to saltwater you simply purchase a Hayward Salt Cell and it plugs right into the base system not extra parts required. It also includes a built in 125A subpanel with 12 breaker slots to house all of the equipment wiring.
The OmniLogic does have the capability to be used through Amazon's Alexa for an ultimate user experience. Another great future of this system is the ability to update the software on the existing board. In the past, if your software was outdated and could not handle a new piece of equipment you had to replace the entire board. Now Hayward will put out an update that may include software updates, new user features, or even software bug fixes. When an update comes out you can download it to a USB Stick and upload it into the OmniLogic.
Add-Ons for the OmniLogic Include:
WiFi Bridge - Gives you the ability to download (free) the Hayward OmniLogic app for the ability to remotely control your system using your computer or mobile device. You can also connect an ethernet cable directly to the system.
Hayward Salt Cell - Simply purchase a Hayward Salt Cell and plug it in, no other hardware required.
Valve Actuators - You can add up to 4 valve actuators for whatever your pool demands.
Hayward Sense and Dispense - The Sense and Dispense system monitors and adjusts ORP (chlorine) and pH.
Expansion Panel - For pools with extreme equipment demands there is an expansion setup available that gives you the ability to add more equipment to the system.
Wall Mount Controller and/or Wireless Waterproof Remote - For those of you not interested in WiFi control with your mobile device these are two great options. Or maybe you want it all - wall mounted controller, wireless waterproof remote, and mobile control.
Upgrading an Existing Automation System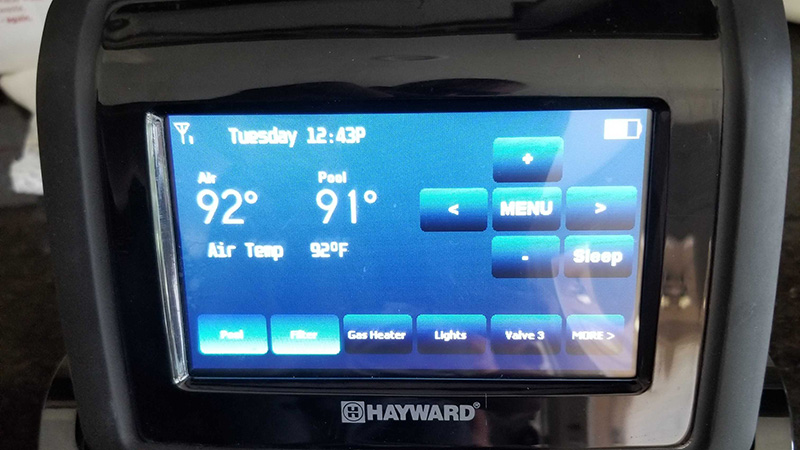 Hayward Omnilogic Wireless Waterproof Remote
For pool owners with existing automation systems there may be upgrades available to give you WiFi control of your pool using your mobile device. These upgrades don't require extensive installation procedures and can generally be installed within a couple of hours.
One thing to keep in mind is that if your system is too old it may require a new main control board to be installed with up-to-date software.
Another thing to be aware of is that you cannot use another brand's upgrade kit with your system, it needs to be the specific upgrade for your system. Below are some of the upgrades that may be available to you.
Pentair Compool to EasyTouch Upgrade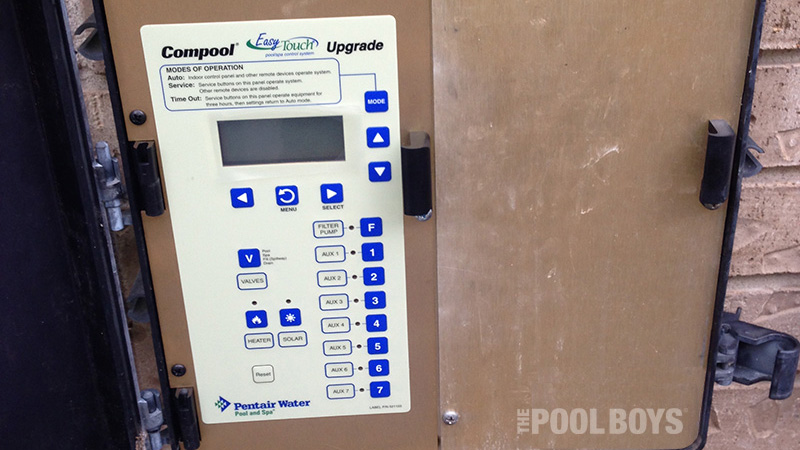 Pentair Compool to EasyTouch Upgrade installed by The Pool Boys
This kit takes your extremely old compool system and converts it to a Pentair EasyTouch with a replacement of the panel and PCB board. This kit does not include a remote or WiFi control, but both of those can be added on if desired.
Pentair ScreenLogic WiFi Control - This upgrade is for owners of the Pentair EasyTouch or Pentair IntelliTouch systems. It will give you the availability to control your system on your mobile devices through an easy to use app called ScreenLogic Connect. If you have Alexa, the ScreenLogic will allow you to use Alexa to control some of your pool features.
Pentair Intellicenter Control System Upgrade Kit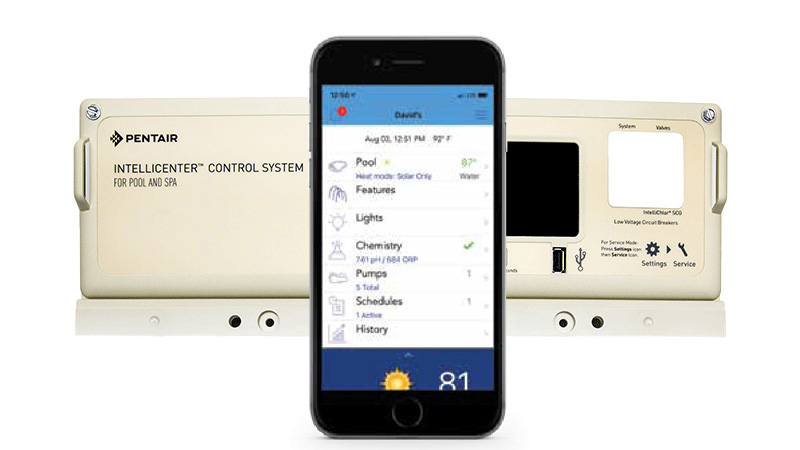 Pentair Intellicenter Upgrade Kit for EasyTouch and IntelliTouch Control Systems.
Provides pool owners that have old or inoperable automation systems with the ultimate automation experience.
Introducing the IntelliCenter Upgrade Kit for EasyTouch and IntelliTouch Control Systems. Now, pool owners can have the features they want and deserve without having to purchase a completely new automation system.
This easy retrofit will bring EasyTouch and IntelliTouch Control Systems up to date with all the features of the IntelliCenter Control System and you'll have the ability to remotely monitor your pool with a web-based software, giving you peace of mind from anywhere.
Intellicenter Control System Upgrade Kit Key Features
Automatic, over-the-air equipment updates.
Control and monitor pool from anywhere, anytime, with a smart device, computer, indoor control panel or wireless, remote control.
Receive smart alerts when equipment needs attention.
Expandable to accommodate new equipment add-ons and product upgrades.
Hayward AquaConnect
Hayward AquaConnect for ProLogic Automation System
Works with the Hayward ProLogic automation system to bring you mobile control through the Hayward AquaConnect app or online portal. AquaConnect does not have the capability to work with Alexa, for this you would want to upgrade to an OmniLogic or OmniHub system.
Jandy iAquaLink Kit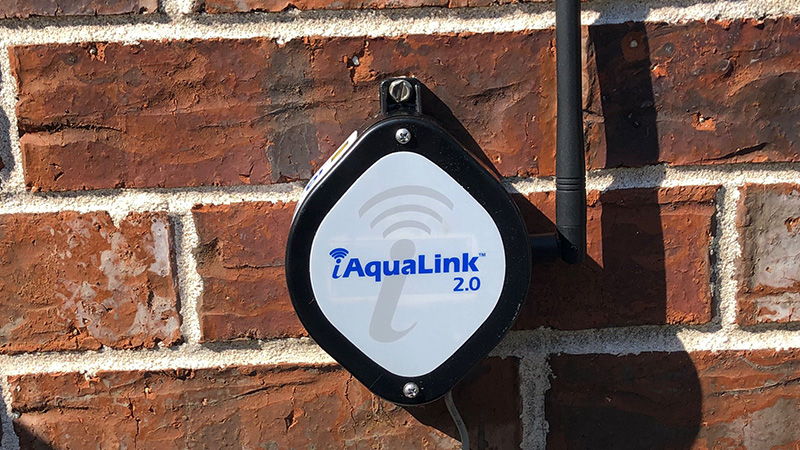 Jandy iAquaLink Antenna for Mobile Control
This kit comes complete with a completely updated PCB board and antenna. Oftentimes if you are already facing a control board replacement this kit would be a cheaper option than just the board and you get the mobile control with it. Once installed you can control your pool system with the Jandy iAquaLink app. Currently the iAquaLink does not offer Alexa control, but should be available in the future. The iAquaLink app will also control the Polaris 650iQ Sport Cleaner and Jandy iQPUMP01 variable speed pump controller.
**If you currently have the Jandy AquaLink System with the following software revisions you can purchase the iAquaLink Antenna (iQ20 Web-Connect Device) instead of the complete kit.
AquaLink RS - Revision R or later
AquaLink PDA - Revision 6 or later
---------
Thinking about Upgrading Your Pool Automation System?
Here are some tips to help point you towards the right system.
Do you have a pool only (single body) or pool/spa combination (dual body)?
Do you currently have a salt system? Are you wanting to convert to salt?
Take a tally of all of your current equipment. Example:

1 main pump - variable speed
1 water feature pump
1 cleaner pump
1 cartridge filter
1 pool light
1 spa light

Consider what you may want to add in the future. Planning for the future will ensure that you don't choose a Pool Control System that you can't expand on.
Do you currently have a Pool Automation System with upgrades available?
Professional Pool Automation Sales, Service & Installation
Pool Automation and Control System Installed by The Pool Boys
The Pool Boys are fully Licensed and Insured in the State of Texas and have been in business since 2011. We work on all kinds of different pool controllers and can complete any pool equipment installs or repairs you need. We proudly service League City, Friendswood, Clear Lake and the surrounding area.
Give us a call at 832-473-5715 to schedule an appointment, or Contact The Pool Boys for more information.