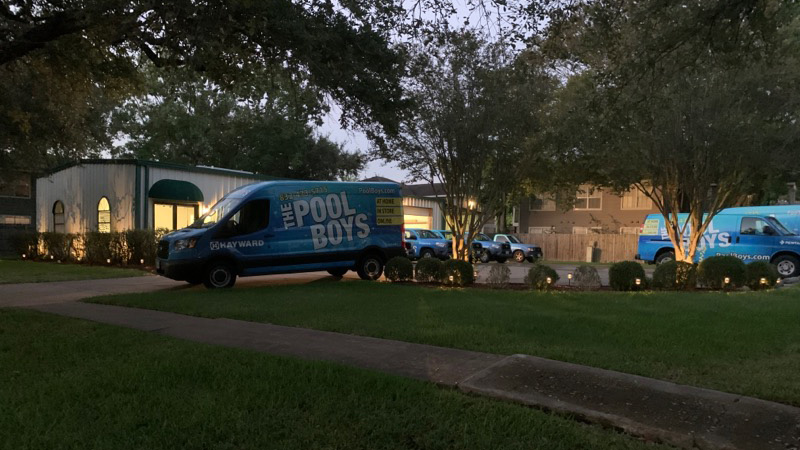 The Pool Boys is located in League City, Texas and provides Total Care Weekly Pool Maintenance Service and Pool Equipment Installation and Repair Services. Our office is located at 382 W Main St. We're open Monday through Friday from 8 AM to 4 PM and you can reach our office at 832-473-5715. After hours? Contact Us via the web.
The Pool Boys started in early 2011 when Justin Morehead and Zac Nicklas joined forces to service pools in League City and the surrounding area. The more customers we spoke to, the more we wanted to build our business on quality work and honest service, as it seems to be lacking at times within the pool service industry.
Bootstrapping it all the way, we spent the first 4 years grinding it out in the field, riding together, making repairs, cleaning pools, whatever it took to keep customers happy and food on the table. All while working out of Zac's apartment, then a rental house garage and 1 truck.
In 2014, we significantly reduced our coverage area, and focused in on a 15 mile radius from League City, while putting a second truck on the road.
By 2016, we were established enough to move into our previous location on Hobbs Rd., and thanks to our customers giving us rave reviews, we've been growing ever since.
The Pool Boys currently employ 2 Texas State Licensed Equipment Installation Technicians and 7 Weekly Maintenance Techs, who average over 800 pool visits each month! With our Service Advisor Leah in the office ready to take your call, we can usually dispatch a Licensed Repair Tech the next business day, or check out the On Point Checkup page to schedule a service call after hours.
We know pools, and more importantly, we know the challenges faced when maintaining a pool in this hot Texas weather, with an average of 70+ inches of rain year round. It's not easy!
Give The Pool Boys a call if you're ready for us to takeover maintenance at 832-473-5715, or visit our Total Care Weekly Pool Maintenance Service page for more information. 
The Pool Boys
382 W Main St.
League CIty, TX 77573

Phone: 832-473-5715

Email: This email address is being protected from spambots. You need JavaScript enabled to view it.

Texas Residential Appliance Installation Contractor: The Pool Boys TICL728
Legendary Pools & Spas Visits The Pool Boys