Most of the time, your pool equipment is the last thing you think about during the day. However, there may come a time that the pool isn't responding to chemicals, or the pool pump may start to make noise. That's when you need a professional.
The On Point Checkup Pool Equipment Inspection is designed to provide our customers with a thorough diagnosis of their pool filtration system and the various controls and plumbing that keep your swimming pool operational.
Often times there are issues with the pool equipment that you may not be aware of that should be taken care of before they result in bigger more costly problems.
The Pool Boys developed this inspection process over an 8 year period, and we continue to refine the process as new technologies and better procedures are introduced.
From the initial email, phone call or website form submission, our Service Manager will contact you to get a verbal description of the issue, and schedule your appointment. This data is entered into our Service App, and will be used throughout the entire job from start to finish.
The night before service, our office will email you a reminder, with the name and picture of the technician who will be performing the On Point Checkup Pool Equipment Inspection. In addition, our Technician will call you when he's on his way.
Below, we take a closer look at our On Point Checkup Pool Equipment Inspection, and explain exactly what our technicians do on the average Service Call.
Pool Controls and Automation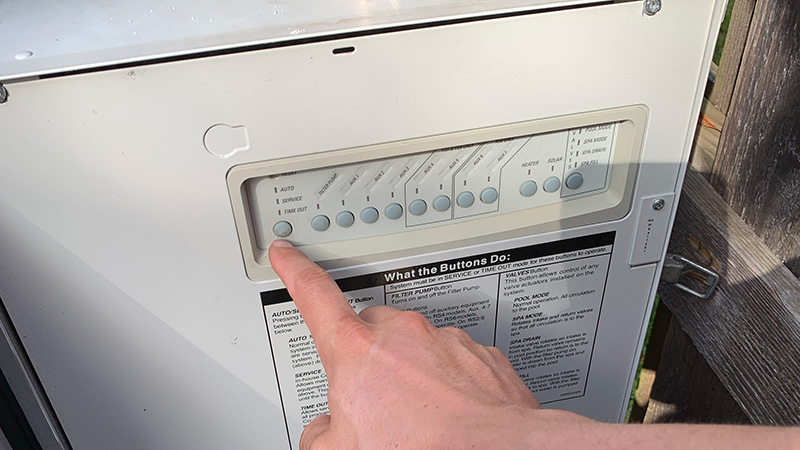 Pool controls can range from a single Intermatic Time Clock (yellow dial) all the way up to a Pentair Intellicenter that controls up to 16 Variable Speed Pumps and 40 pieces of high voltage equipment.
About half of our Customers have some sort of Pool Control Automation System. Pentair, Jandy and Hayward are the 'Big 3' we train for on a regular basis. During our inspection, our technicians will test Relays, Temp Sensor and Actuators to ensure the system is operational.
Relays - Our technician will put your control system in service mode and manually turn on and off each piece of equipment connected to the automation system to confirm that each relay is opening and closing correctly.


Temp Sensor - If the temp sensors are reading incorrectly it can cause things like the heater to not come on or freeze protection to not work.


Actuators - If an actuator is not turning correctly when activated it can cause issues such as draining the spa or not returning the water to the swimming pool.
Intermatic Time Clocks and Manual Controllers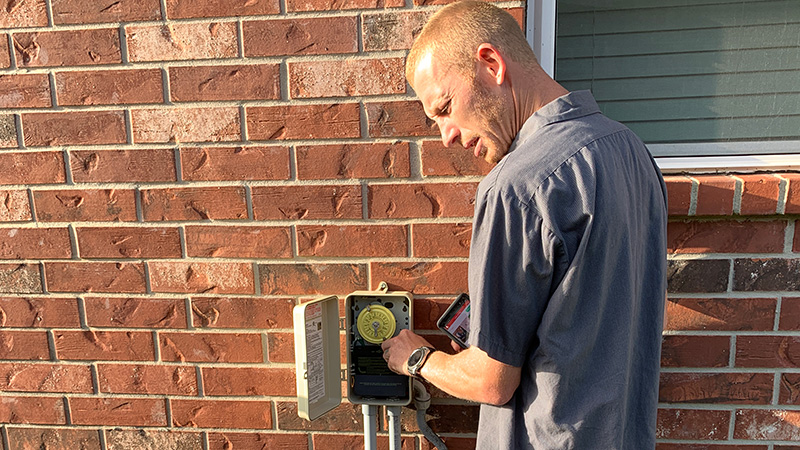 For the other 50% of our Customers running manual controllers, our technicians will turn your time clocks on and off to ensure that they are working. In addition to that they will wiggle your on/off timer trippers to make sure they are not loose, and tighten as needed.
Intermatic Time Clocks should rotate in order to keep the correct time each day. This is done by a rotating gear in the back of the time clock that our Technicians will visually check for movement.
Electrical Inspection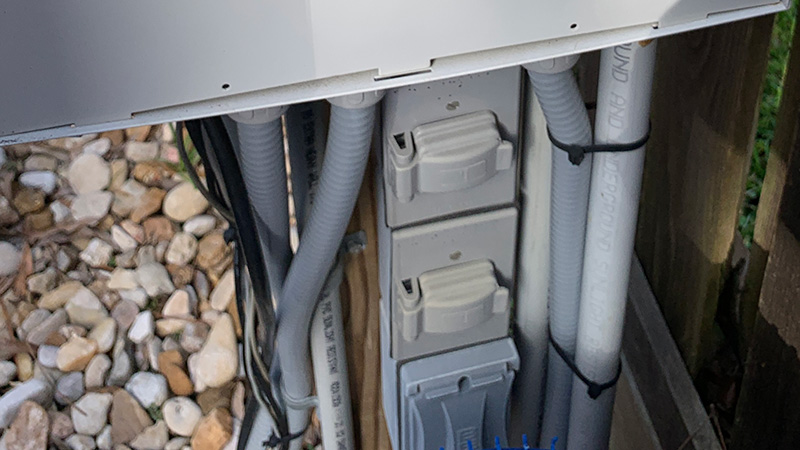 Wire Cover - Every pool control system has some type of wire compartment. Our Technicians will visually check for a safety cover over the wiring compartment.
Equipment Conduits - Each piece of electrical equipment has an electrical conduit with wires that connect it to the pool controls or breaker box. Over time they become brittle from exposure to the elements and can break. Our Technicians will visually inspect the electrical conduits for any recommended repairs. In some cases, the work needed to fix a problem can fall outside of what we're licensed to do. In these instances our Technicians will let you know that an electrician will need to perform the repair.
Equipment Bonded - Every pool equipment pad should have a #8 solid copper bond wire. This wire is a safety feature to prevent electrical shock in the event that something goes electrically wrong on your equipment pad. If there is an existing bond wire that we can fix by connecting to any equipment, we can perform the repair. If the bond wire is missing, you will need an electrician to correct the issue.
Mechanical and Plumbing Inspection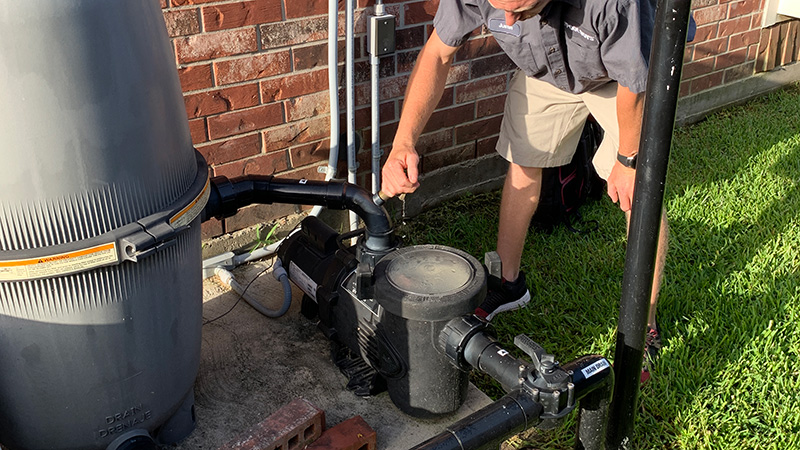 NOTICE: ** Deep Dive Diagnosis ** - In the event that our Technicians need to take a piece of your pool equipment apart for further inspection, our staff will notify you of any additional labor and/or parts cost, and get your approval before proceeding with further diagnosis. This is noted throughout the article below with an * where a Deep Dive Diagnosis may be needed.
* Main Pool Pump & Secondary Pool Pumps - The main circulation pool pump is the heart of the system. It pulls water from the pool, pushes it through the pool filter, and returns it back to the pool. Without the main pool pump it would be impossible to keep your pool clean and algae free.
There are numerous issues that can occur with pool pumps, our inspection starts as visual and auditory. We will look for any visual damage such as leaking or air in the pump as well as listen for any noises out of the ordinary. Noises such as rattling inside, squealing bearings, and grinding can indicate a current or potential failure. In the event we need to take your Pool Pump apart to do a Deep Dive Diagnosis, our office will contact you first for your approval on any additional parts and/or labor needed.
Pump Baskets - We will pull out all pump baskets and visually inspect them for any cracks or damage. It is important that the pool pump baskets are in good condition and working properly. Cracked baskets can allow debris to pass through and clog the pump impeller. This will result in low water flow and can lead to costly repairs such as the pump motor going out.
Booster Pump - The booster pump (also called sweep pump or cleaner pump) is what drives the pressure side pool cleaner. During our inspection we will visually check your booster pump for any water leaks as well as turn it on to check that it is properly running the cleaner if you have one connected in the pool.
* Chiller/Cooler and/or Heat Pump - Visually inspect Heat Pump or Chiller for any leaking or visible damage. The technician will also turn it on for 1-2 minutes to ensure that it is operational. Additional Deep Dive Diagnosis may be needed if unit fails to respond to initial inspection. We will request customer approval before proceeding.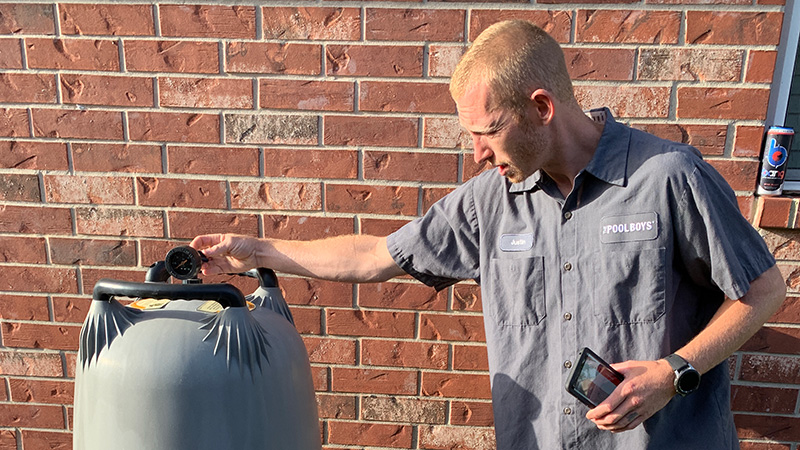 * Filter & Filter Pressure - During our equipment inspection we will turn on your pool pump and visually check your swimming pool filter for any leaks. Additionally we will monitor your filter pressure for any excessively high or excessively low readings which could indicate an issue.
If you have a D.E. Pool Filter or a Sand Pool Filter we will let the system run and watch for any D.E. Powder or Sand returning to the swimming pool. Additional Deep Dive Diagnosis may be needed if unit fails to respond to initial tests. We will request customer approval before proceeding.
* Multi-port Valve or Push-Pull Valve - Our inspection of the backwash valve is a combination of a visual check for leaks at the valve and out of the backwash line, as well as using the valve to ensure that it is functioning and sealing properly. Additional Deep Dive Diagnosis may be needed if unit fails to respond to initial inspection. We will request customer approval before proceeding.
* Heater - The heater inspection is a visual inspection for leaks, damage, and rodents. Rodents love to build nests inside of swimming pool heaters and will often times cause damage. Our Technicians will also turn on your heater for a few minutes to ensure that it is igniting. Unless we were specifically called out for a pool heater issue we will only run the heater for 1-2 minutes. Keep in mind that it can take an average of 30-45 minutes for the heater to heat up the spa. If you would like us to heat up the spa up to max temperature or if we need to further diagnose the unit there will be an additional labor charge for the Deep Dive Diagnosis.
Corrosion Resistant Check Valve - Corrosion resistant check valves protect the copper heat exchanger from chemical damage and are required on all pools with a Heater. It prevents heavily chlorinated water from flowing back into the copper heat exchanger when the pool system turns off. The cost of the heat exchanger alone is about half the cost of a new heater, so it is important that it is protected with a corrosion resistant check valve. Additionally it is wise to have the check valve internals replaced every 2 to 3 years - it is corrosion resistant, not corrosion proof. The Pool Boys install a corrosion resistant check valve on every new pool heater we install.
Salt System - Salt systems can be very helpful with your swimming pool maintenance as long as they are working properly. We will visually inspect for leaking, red indicator lights, system alarms, and for a normal salt reading. If your salt system is giving an oddly high or low reading we will inspect the inside of your salt cell for any calcium build-up. The average life of a salt cell is 3-5 years if properly cared for.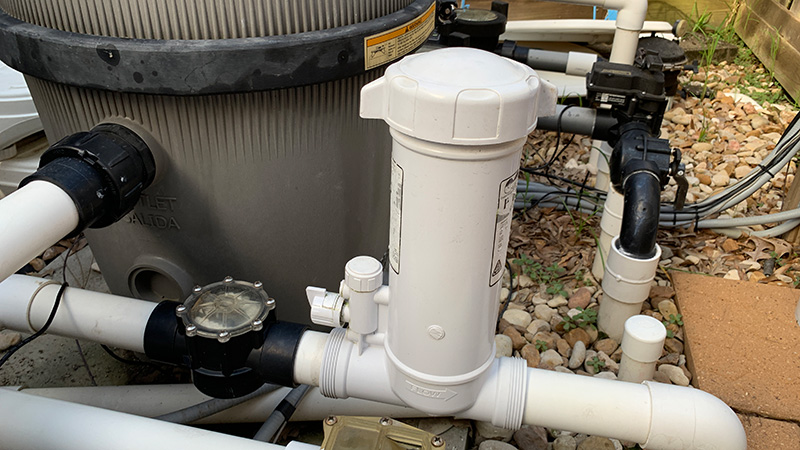 In-Line Chlorine Feeder - In-line chlorine feeders can be an effective way of getting chlorine into your swimming pool. However, over time they can develop issues such as becoming gummed up, lid o-ring breaking down and leaking, or hoses and valves becoming brittle and breaking.
* UV Systems & Ozone Systems - These systems are used as supplemental water sanitizers in addition to your chlorine tablets or salt systems. They are effective as long as they are working properly and can cut back on a lot of maintenance related issues. These systems do require upkeep and have parts, such as light bulbs, that lose strength over time and eventually go out. Our Technicians will complete a visual inspection for leaks, brittle hoses, and check for light by looking through a small sight glass on the unit. In the event that our Technicians need to take your UV System or Ozone System apart for a Deep Dive Diagnosis, we will call for customer approval before proceeding.
Blower - Spa blowers are used to create air bubbles in the spa by blowing air into the spa return line. Over time they can become brittle from constant weather exposure. Our inspection is a visual check for any damage to the spa blower housing and turning the unit on and off to test that it is functional.
Diverter Valves - Diverter valves are used to direct water flow. It is very common for these valves to develop air leaks and water leaks due to old o-rings. The Pool Boys will visually inspect the diverter valves for water leaks, air leaks, or any visible damage.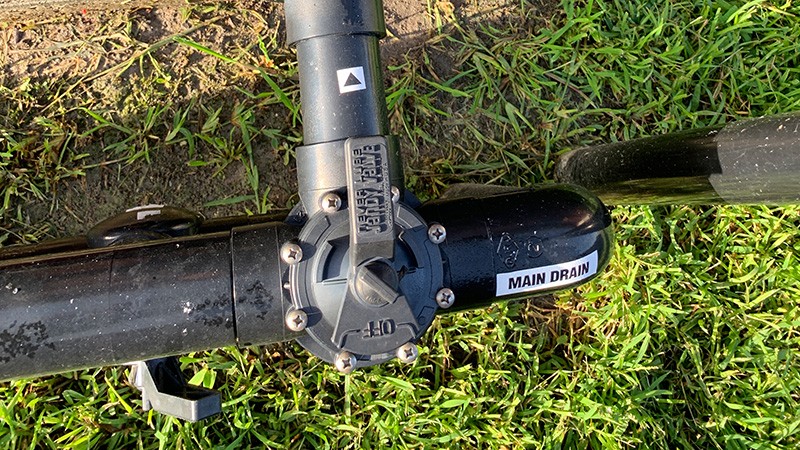 Diverter Valve Handles - Diverter valve handles have different designs depending on the manufacturer. Jandy Diverter Valves are the most widely used valves. Their handles (and many other brands) have built in safety catches to prevent the valve from being turned too far, potentially blocking flow completely. Blocking flow completely can be extremely dangerous and could cause a pressure build up in the system, leading to equipment failures such as your pool pump going out or your filter exploding.
Jandy Energy Filter - Jandy Energy Filters are used when there is a pressure side cleaner, such as the Polaris 360 or Poolvergnuegen, which use water pressure from the main pool pump, not a booster pump. We will perform a visual inspection for any leaking and also check that the gauge is functioning properly. We offer cleaning of the Jandy Energy Filter Cartridge for $29.99.
Plumbing - The Pool Boys only work on pool equipment related plumbing that is above ground at the pool equipment pad. We do not perform any underground repairs or leak detection. The Technician will perform a visual check of the plumbing for any leaks or damage. Additionally if there is any concern with the way some of the plumbing is done we will notify you. Pool plumbing sizing and layout is extremely important for the hydraulic efficiency of your pool. Improper plumbing can cause you to have maintenance problems and pool equipment failures.
Pool and Miscellaneous Inspection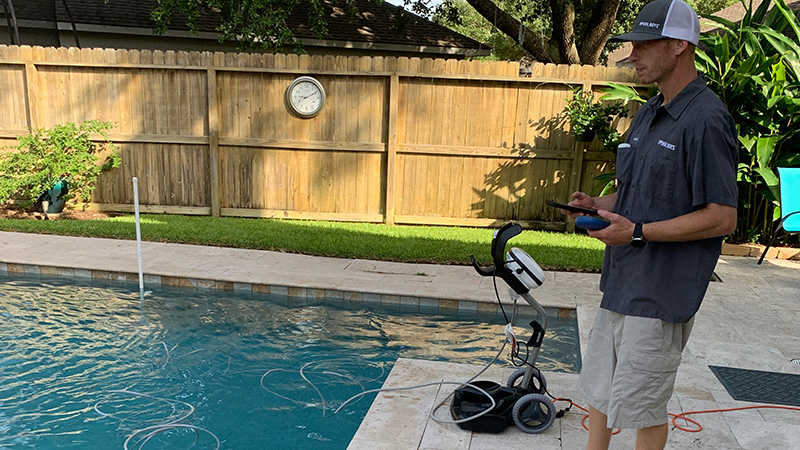 Pool Cleaner - Having a properly functioning pool cleaner is key to being able to properly maintain the swimming pool. Our Technician will turn on the system and run your cleaner to ensure that it is moving well throughout the pool. This is simply a visual check to watch for any obvious failures with the pool cleaner. In the event that our Technicians need to take your pool cleaner apart for a Deep Dive Diagnosis, they may recommend that you bring the cleaner into The Pool Boys Retail Store for repair. **If you have a robotic cleaner that is not powered by the pool equipment, our technicians will not put the Robotic Cleaner into your pool to test unless they are there specifically to diagnose an issue with the cleaner.
Spa Side Air Button/Remote - A spa side air button triggers on the spa air blower by sending a puff of air through the line to a relay box when pressed. A spa side remote is electronic and typically has multiple buttons to trigger on several different items from the convenience of your spa. During the inspection we will simply press each button to check that it is activating the equipment properly.
Lights - We will test that your swimming pool and spa lights are turning on and off. If there is an issue where the light does not come on we will notify you in your inspection report. However, we do not perform light installs or repairs so we will recommend that you have an electrician look at your lights.
GFCI Light Protection - Pool and spa lights should be run through a GFCI for safety. The Technician will test that the GFCI cuts off power to the light by pressing the "TEST" button and then "RESET" it. If there are any apparent issues the Technician will note it in the equipment inspection that is sent to you. GFCI repairs or replacement will require you to have an electrician come out.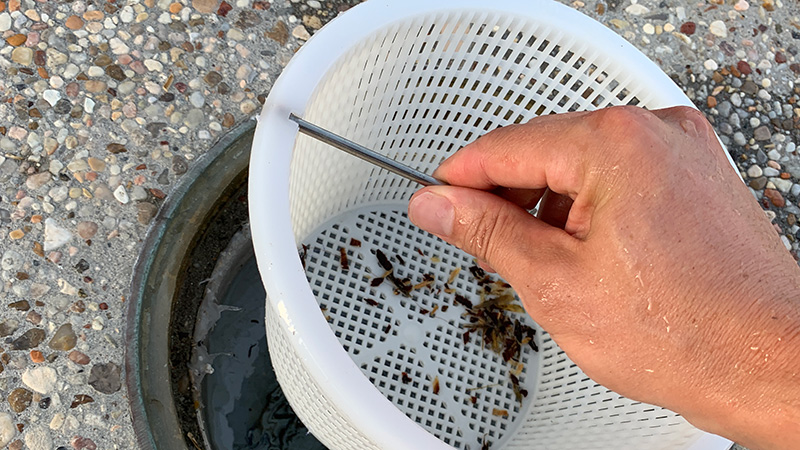 Skimmer Lid, Skimmer Basket, and Skimmer Weir Doors - The swimming pool skimmers are generally overlooked, but are very important for your pool maintenance. The lid is there for safety. The baskets prevent debris from entering your underground plumbing lines and possible causing clogs. The skimmer weir door floats into a closed position when your pool system shuts off, preventing debris from floating back into your pool. Our Technician will visually inspect these items for any cracks or damage.
Main Drain Covers in Place - Not a lot of people realize how dangerous the swimming pool and spa main drains are. It is extremely dangerous to operate the pool with missing or non-VGB compliant main drain covers. We will visually look for any missing drain covers. Another widely unknown fact is that your drain covers expire about every 5 years and should be replaced.
Sticker in Box - At every new inspection our Technicians are asked to neatly place a sticker in your pool control box. This sticker carries all of The Pool Boys' contact information should you ever need it.
Working Hard to Earn Your Business
The Pool Boys know time is money today, and we strive to do everything possible to help you fix your pool issues and let you get back to swimming. Our office will inform you every step of the way, from appointment to estimate to approval and final repair invoice. With our Service App we log the entire process and email you with notifications.
Once our office receives Customer Approval, our technicians can complete the repair on the spot, or schedule a time and/or day to return, if additional parts are needed.
With 2 fully stocked Service Vans and Licensed Technicians on the road every day, along with a central dispatch office in League City, we're able to quickly and effectively service our customer base in League City, Friendswood and the Greater Clear Lake area for Pool Equipment Installation and Repair. We also service customers in Pearland, Dickinson, Kemah, Seabrook and the I-45 South corridor down to Galveston Island.
If you're Pool Equipment is in need of attention, give The Pool Boys a call at 832-473-5715 or visit our On Point Checkup Pool Equipment Inspection page and submit a request.