2019 was an exciting year for The Pool Boys. At the end of each year we like to take a moment to reflect on everything that went on. It's easy to get caught up in the day to day grind and lose sight of all of the accomplishments and changes that happened throughout the year. Let's take a moment to look back at some of the highlights of 2019.
Total Care Weekly Pool Maintenance Service Takes Center Stage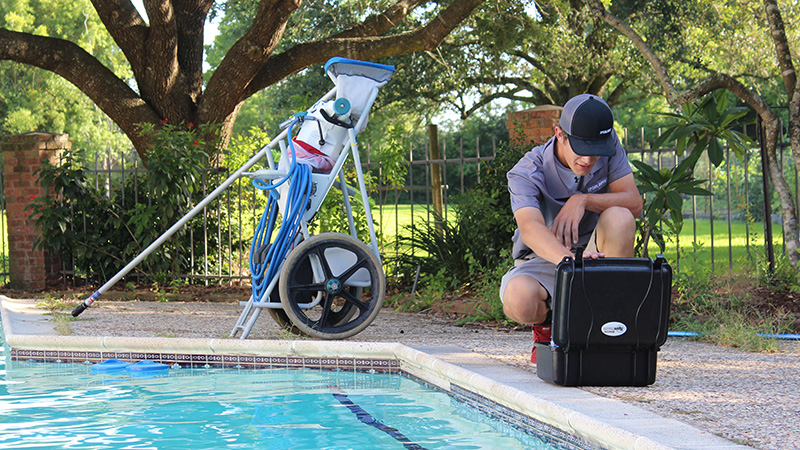 The Pool Boys started as a pool equipment repair & install company in 2011. 2 Chucks in a Truck we used to say. It wasn't until Spring of last year (2018) that we added Weekly Pool Maintenance as a service for our customers. The decision came to start weekly pool maintenance due to the overwhelming demand of customer requests we received for this service.
In the beginning of 2019 we improved our standard weekly service and created Total Care Weekly Pool Maintenance Service, which includes the addition of Borates as well as 2 Filter Cleaning Services per year.
Our Total Care Weekly Pool Maintenance Service was a hit and we successfully doubled the size of our maintenance route in 12 months time. With the addition of Max and Nathan in 2019, our Pool Maintenance team now has 3 solid routes in and around League City, Friendswood and Clear Lake. We're currently training a new team member for a 4th truck this month!
A HUGE Thanks to our customers for helping us grow!
Expansion of Weekly Service to Friendswood and Clear Lake
In 2018 our Weekly Maintenance Service area was limited to League City. With the addition of 2 more maintenance technicians this year, we were able to open this service up to both Friendswood and Clear Lake in 2019. If you live in Friendswood, League City or the Clear Lake area give us a call for Weekly Pool Service!
The On-Point Checkup Pool Equipment Inspection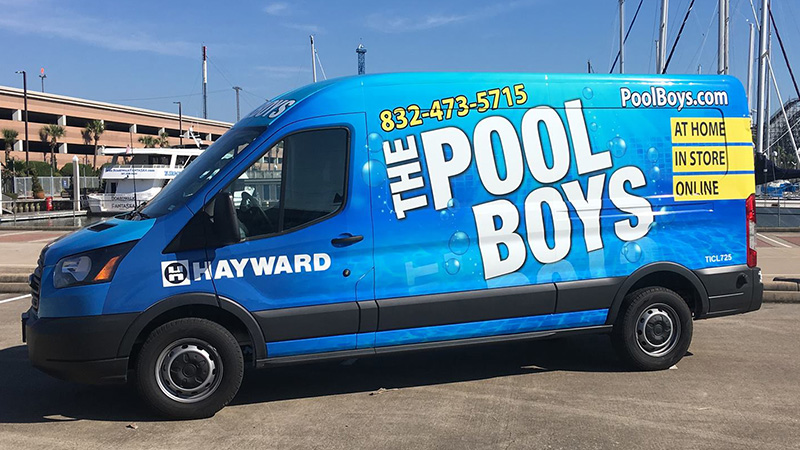 Most of you understand that when you call out a reputable service company there is a "Service Call" fee for them to visit your home. This fee is in place to help companies cover the cost of sending a properly licensed, insured, and trained technician out to a customer's home in a company branded vehicle, diagnose the customers issue and offer them an estimate for repair.
We wanted to provide more value to our customers by including a complete and thorough inspection of their pool equipment with the Service Call.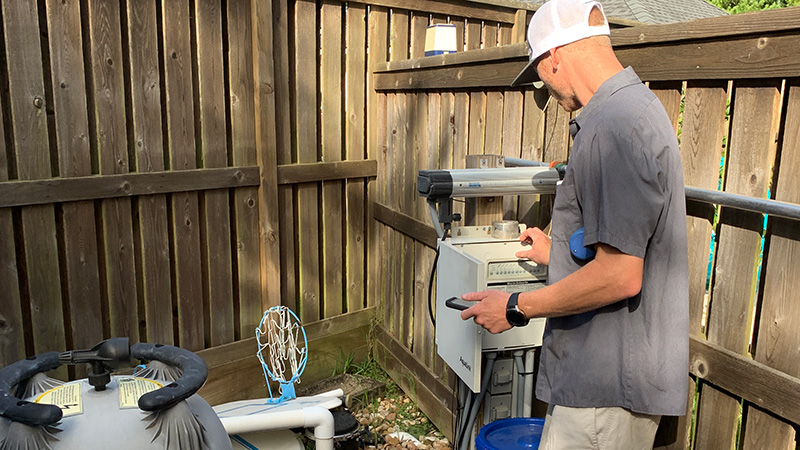 The result is our On Point Checkup Pool Equipment Inspection. A complete and thorough pool equipment inspection on every Service Call. This inspection currently consists of 34 possible points to check, to make sure your pool equipment is operating correctly. Our Service Technicians complete the inspection in our Mobile Service App along with any relevant photos and notes that are emailed to the customer along with the estimate for approval before any repairs are started.
After less than a year in the field with the On Point Checkup Pool Equipment Inspection, we believe we've found the right balance to deliver value to our customers with each Service Call.
Don't forget, Total Care Weekly customers receive free Service Calls!
The Pool Boys Daily, Weekly and Monthly Training Sessions
Here at The Pool Boys we believe that frequent training is essential to being able to provide top notch service. Every year there are tons of changes in the pool industry with the addition of new products from manufacturers, new maintenance techniques, and new repair techniques. As well as issues that arise everyday in the field that require our team to figure out solutions and better methods of caring for customer pools in the Gulf Coast region.
With this we have added two computer training stations in our shop where our Service and Maintenance Technicians are able to take online courses to further their knowledge as well as obtain certifications to help them with their career. We've set up a guided training path that allows each technician to advance at their own pace, no matter when they start with The Pool Boys.
Another fun thing that was started this year is our Vendor Training Sessions. These are sessions where we invite manufacturer representatives to our shop to provide training to all our staff in 1-2 hour sessions. With these sessions we like to get our entire team involved which allows everyone, including our office staff, to have a well rounded knowledge of swimming pool maintenance and equipment.
Upgrading The Pool Boys Image
We always strive to put our best foot forward when dealing with our customers. The way our technicians present themselves in our customer's backyard is very important to us. This year we took the next step in our presentation and acquired a professional uniform service to go along with our professionally wrapped vehicles. This has created a standardized, professional look for all of our team members and allows them to be easily identified when they are in your backyard.
Featured on Legendary Pools & Spas
We were fortunate enough to get the opportunity to be featured in a video with Legendary Pools and Spas. Featured on their Youtube channel, the video highlights the start of The Pool Boys and gives a look into our growing business. Our team had a blast hanging with the Legend and shooting the video! You can view it here on our website:
The Legend Visits The Pool Boys in League City
Closing of Retail Pool Supply and Free Water Testing
Perhaps the biggest change this year for us was the decision to close our retail store. This was an extremely tough decision to make after 4 years of building awesome relationships with local customers. But we needed to do it.
With the steady decline of retail pool supply sales year over year, coupled with the amazing growth of our Total Care Weekly Pool Maintenance Service as well as steady growth of our equipment repair and installation services, it was time to bite the bullet on the retail store.
As of January 1st 2020 we will no longer offer in-store water testing or retail sales of chemicals and pool supplies. However, if you need weekly pool maintenance or pool equipment sales, service and installation, give us a call at 832-473-5715.
Continuous Improvement in 2020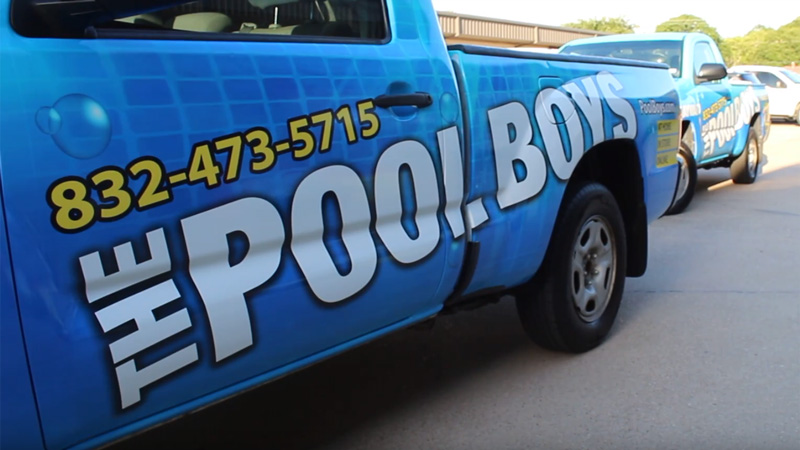 It has always been and remains a high priority to be the best service provider we can be. This mentality keeps us on our toes, always making improvements and changes where necessary. Most of these improvements and changes come from the constant interaction and feedback from our customers, and we care what you think!
As I just mentioned, customer feedback is the most important thing for us. This feedback allows us to see where we are excelling and where we need improvement. This year we received over 70+ 5-Star reviews on the web. I am so proud of the Team we have built and their continuous hard work and dedication to The Pool Boys and its customers.
We want to say thank you to all of you who have provided feedback and to everyone that chose The Pool Boys for their swimming pool needs! Thank you for your Support, and we look forward to a healthy and prosperous 2020!
Zac Nicklas
The Pool Boys
832-473-5715