At The Pool Boys, we are always looking for ways to improve our process of keeping pools clean. Whether it's finding a better tool or learning a new procedure, we are constantly testing new ways to bring more value to our customers.
One of the more recent changes involves the rising cost of Chlorine, and finding alternative ways to sanitize your pool cost effectively. The price of Chlorine has more than quadrupled over the past 12-18 months. Various factors have driven the cost up, but there's also been a shortage of suppliers and raw chemicals to produce Chlorine.
The shortage of Chlorine has created a resurgence of alternative sanitizers such as Salt Chlorine Generators, UV Sanitizer Systems and Mineral Based Sanitizers. We've discussed Salt Chlorine Generators in the past, but we haven't discussed Mineral Based Sanitizers, such as the Jandy TruGuard, Pool RX or BlueRay XL.
Old Technology is New Again
Mineral Based Sanitizers have been around for a decade or more, but it wasn't until recently were they seen as a cost effective way to improve water clarity, while reducing the use of Chlorine. Every little bit helps, and the following products claim to reduce Chlorine usage by up to 50%, while removing the need for Algaecides, Phosphate Removers, Clarifiers, Sodium Bromide, etc.
Installation is easy, with Blueray XL and Pool RX, you simply drop the Minerals into your pool skimmer or pump basket and add the ionizer tube or pod that energizes the minerals as they pass through. They are designed to work for 6 months, and have additional booster packs for longer swim seasons.
The Jandy TruGuard is installed inline, and has a screw on cartridge that you replace every 6 months. We are currently testing the Jandy TruGuard unit on a Salt Chlorine pool to determine if the energy savings of running the Salt Generator less during the Summer months are true. Our test pool is in my backyard, and I usually run my Salt Cell at 80% for 7 hours a day during the summer, so we'll see how this year goes!
Below are details about each of the products mentioned above. If you have any questions about these products, give our office a call at 832-473-5715, and we'll be happy to help any way we can.
We're looking to test these products on Green to Clean pools, and trouble pools that show signs of algae during the summer months of our hot and humid weather in Texas.
Jandy TruGuard Mineral Sanitizer
Advanced mineral sanitization lets you use less chemicals and protects against algae. TruGuard™ is a sanitizing solution used in conjunction with a chlorine or bromine delivery device that leverages mineral technology to destroy algae and bacteria and help deliver cleaner, clearer, more comfortable water for your pool or spa.
Jandy Truguard Features
Hassle-Free Algae Control - The powerful minerals in TruGuard destroy bacteria and control algae for up to 6 months in pools. Plus, replacing your cartridge is simple so you can experience uninterrupted indulgence of your pool.
TruGuard pairs perfectly with a salt chlorinator - Combine with TruClear or AquaPure for cleaner, clearer, more comfortable water.
Save on Chemicals - TruGuard works alongside your pool's filtration system while providing a cost-cutting alternative to heavy chlorine consumption by reducing necessary chlorine usage by up to 50% in most pools.
Lasting Effects - Make the most of your investment with TruGuard. Lowered chemical usage prolongs the life of your pool equipment so you can extend the longevity of your pool pad and enjoy your pool with less maintenance.
Enhanced Comfort - You won't feel, smell, or be affected by heavy chlorine usage. TruGuard's advanced mineral technology continuously purifies water for a more enjoyable swimming experience.
Dependable and Durable - Designed with durability in mind, TruGuard is made of the same superior materials used to construct our NeverLube® valves to ensure long-lasting reliability.
Out of Sight, But Easy to See - Designed for out-of-sight installation directly plumbed into the rest of the pool pad, you won't see TruGuard, but you will see cleaner, clearer water.
Works with Any In-Ground Pool* - TruGuard provides the perfect pairing for chlorine and bromine pools, plus it helps extend the cell life for saltwater pools.
Blueray XL Mineral Purifier & Catalyst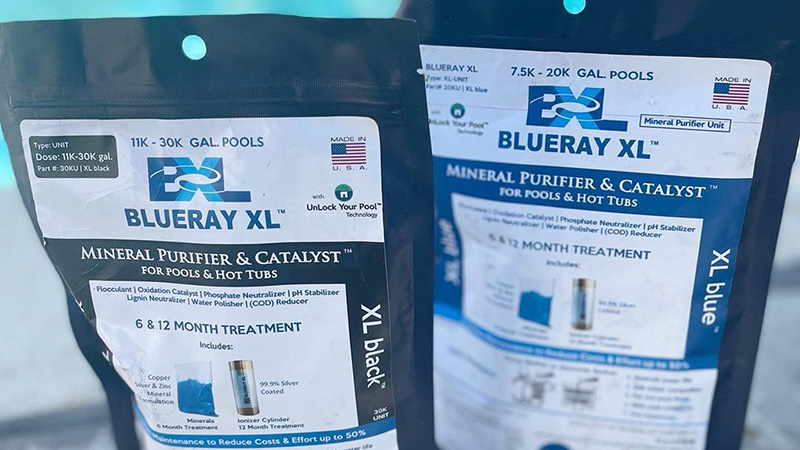 Blueray XL Mineral Purifier & Catalyst™ Simplifies Pool Maintenance to Reduce Cost & Effort up to 50%. Blueray XL enhances and conditions the water while constantly combining with suspended inanimate organic particulates for easy removal by the filtration system. Blueray XL neutralizes the negative effects lignin and phosphates have on water quality, eliminates the need for phosphate removers, enzyme cleaners, chemical clarifiers & harsh flocculants while catalyzing oxidation and stabilizing pH.
Blueray XL™ Mineral Purifier™ and Catalyst™ is a 7-in-1 product that will keep working for up to six-months.
Flocculant
Oxidation Catalyst
Phosphate Neutralizer
pH Stabilizer
Lignin Neutralizer
Water Polisher
(COD) Reducer
BLUERAY XL™ Units come with a specially treated Ionizer cylinder and a mineral formulation of Copper, Silver & Zinc. Minerals dissolve in the water and are re-ionized by the cylinder. Blueray XL-Boosters are used to replenish the minerals at the six-month mark and for larger pools.
Installation is easy; just add an Ionizer cylinder to pump or skimmer basket and add minerals to pump or skimmer basket and turn on your filtration system to dissolve the minerals into the pool or hot tub/Spa. Blueray XL is Saltwater compatible, designed for any pool finish, includes stain inhibitors and it is pre-measured for specific size pools and hot tubs/spas.
Pool RX Mineral Technology
PoolRx is a unique chelated mineral algaecide and chemical reducer that saves you money and simplifies maintenance while improving the look and feel of your water. PoolRx is effective for up to 6 months and a mineral booster can be added if necessary for longer seasons or extreme conditions. The PoolRx method is proven to save money and time, while solving a variety of problems. PoolRx is the ideal solution for all chlorine pools, salt pools and spas. PoolRx is suitable for any size pool, Residential or Commercial use.
What will Pool RX do?
Eliminates All Algae: PoolRx will eliminate algae immediately for up to 6 months. For extreme conditions or longer seasons add a PoolRx booster if needed.
How: PoolRx minerals dissolve out of the unit in the first 24 hours and form a stable residual throughout the entire body of water killing algae and bacteria. This frees up low levels of chlorine or salt chlorine to be more active and available. As the minerals pass back over the PoolRx unit during circulation, they are re-energized and last up to 6 months.
Reduces Chemical Demand:
50% Reduction in your chlorine or salt chlorine demand.
Eliminates the need for harsh chemicals like phosphate removers, clarifiers, sodium bromide, etc.
How: PoolRx only requires 0.5-1.0ppm residual of chlorine or salt chlorine in the water to be completely effective. So you can start by putting in less. Second, the minerals are freeing up a low chlorine residual to become more active and available so it will take even less chlorine to reach your desired ppm.
Simplifies Pool Maintenance: Simple installation.
How: Start with a clean filter and simply drop the PoolRx unit into the skimmer or pump basket, maintain normal pool chemistry, and as little as 0.5-1.0ppm of chlorine or salt chlorine. Do not re-clean or backwash the filter for at least 2 weeks so minerals can dissolve through the filter.
If you are fighting an algae issue with your pool, or have a need for a green to clean service, you might find one of these Mineral Based Sanitizer products are the perfect solution for your pool. If you're having trouble finding Chlorine, or looking to save money on your energy bill due to a Salt Chlorine Generator, then you might find these products helpful as well.
If you're looking for Pool Maintenance in the League City, Clear Lake or Friendswood area, give The Pool Boys a call at 832-473-5715 and we'll be glad to help!