Back by popular demand, The Pool Boys now offer weekly pool maintenance service for League City and surrounding areas. We provide weekly pool cleaning services for $189.99 +tax per month including chemicals and labor for most pools*. We even start your service with a free filter cleaning ($130 value) so we know where your pool is at when we take over maintenance. If you're tired of cleaning your own pool and ready to get back some of that free time swimming, give us a call at 832-473-5715.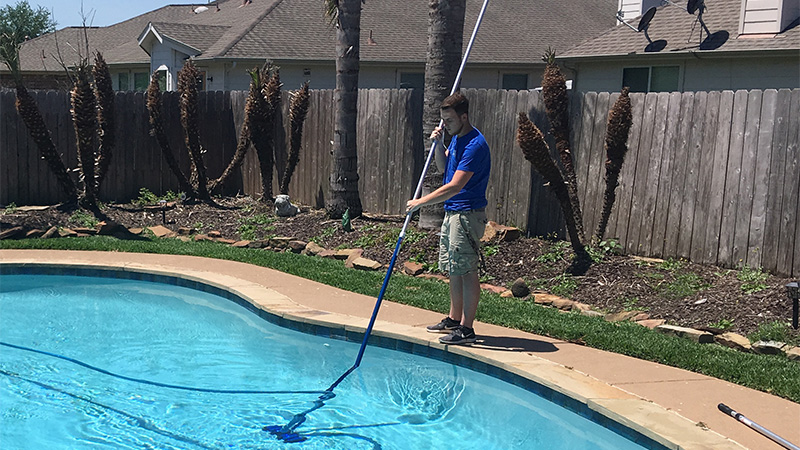 Weekly Pool Cleaning Services for $189.99+ Tax per month
Here's just a short list of what we do each week when cleaning your pool.
Net debris from surface and floor
Vacuum – If Needed
Test water chemistry
Balance water chemistry
Add weekly dose of Orenda CV700 Enzymes and Phosphate remover in the summer months (starting March 1st – ending October 31st)
Brush steps and walls
Empty debris out of all baskets and cleaner
Full equipment check
Backwashing of filter as needed
Discounted filter cleaning $110.00 (Reg. $130.00). This is only for D.E. and Cartridge Filters.
Additional Benefits
Free repair service calls for all of our Weekly Maintenance Customers. (Reg. $90.00)
Weekly Pool Service Agreement Details
$189.99+ Tax per month
*Extremely large or multiple systems may be slightly higher, we will advise you on our initial visit.
Credit Card on file will be automatically processed between the 1st-5th of every month
First payment will be processed upon starting service and will be prorated if necessary.
Heavy rain or thunder and lightning storms will get chemical only service with baskets and cleaner emptied.
Extreme weather events such as a Hurricane or Tropical Storm will result in No Service. Depending on the severity of the storm there may be a cleanup charge which will be handled on a case by case basis.
We do not charge extra for months with 5 weeks.
We take off the following holidays:
New Year's Day – No Service
Independence Day – Service will be done before or after the holiday.
Labor Day – Service will be done before or after the holiday.
Thanksgiving Day – Service will be done before or after the holiday.
Christmas Eve – No Service
Christmas Day – No Service
There will not be credits on the holidays with no service. This is why we do not charge extra for months with 5 trips for service.
There will be 2 routine maintenance filter cleans each year. The first one will happen in March and the second one will happen in September. These will be done automatically and will be processed on the April Payment and October Payment.
We will notify you of any filter cleanings needed outside of this and we will get your approval prior.
Sand filter change outs will be handle on a case by case basis and will be custom quoted for each situation.
Upon starting service we will clean your filter one time for FREE so that we know where we are starting at with your pool.